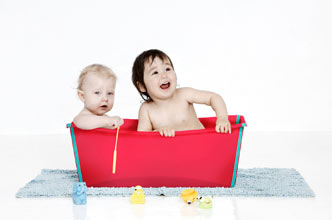 Which baby bath? Flexibath
If you've got a small bathroom and want to be able to put your baby bath out of the way, then this could be the answer. It's won lots of awards for its handy design and it's the only hard children's bath tub that folds flat. The bottom has a non-stick surface and features a plug hole so you don't have to lift it to empty it.
Why it's good:
It's free from PVC, phthalates and other harmful materials.
Where can I get it?
It's £24.95 from
Parents Supermarket
.