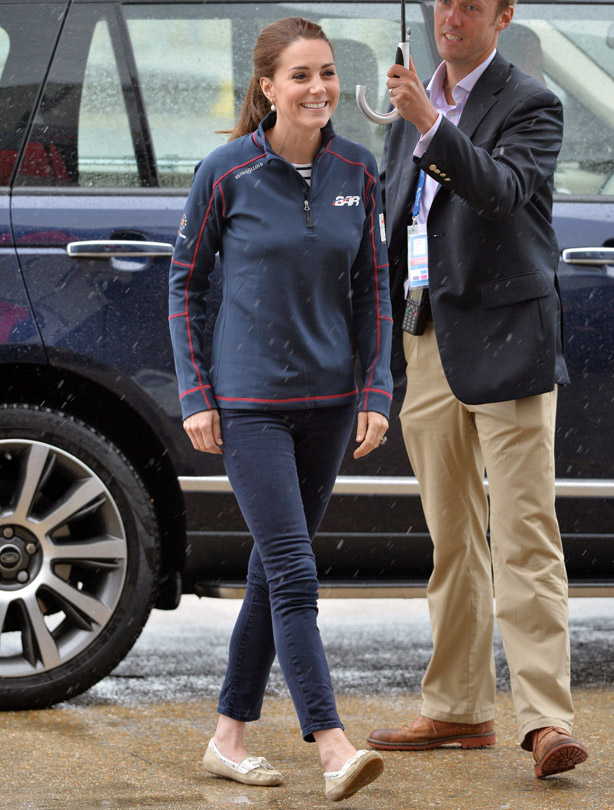 Kate Middleton July 2015
Even duchesses have to go out in the rain, you know! Handy then, that they have one of those faithful servants to follow them around with an umbrella, why don't we have one of those?
Kate's latest outing was a little drizzly, but the mum-of-two didn't let that dampen her spirits. Attending the America's Cup World Series in Portsmouth with her husband, Kate and Wills watched as Olympic sailor Ben Ainslie's take to the water was beaten back by the stormy weather. The couple looked relaxed and comfortable in their matching sporting tops, which had 'The Duke of Cambridge' and 'The Duchess of Cambridge' emblazoned on the back.
Little Freddie Wilson and his mum Wendy Maxwell chatted to Kate as she made her way down the lines of well-wishers. When Kate asked how old Freddie was he replied, 'I'm three.' Wendy told reporters that when she told Kate, 'He is only 2,' Kate replied, 'George says that. He thinks that he's older.'
Speaking to a sleepy little boy in the crowd, also named George, she asked him if he liked Peppa Pig, and added that she hoped Charlotte would be doing lots of sleeping like him, too!
From Kate as an adventurous 3-year-old to all the pics from her fairytale wedding and dazzling red carpet appearances, click through to see the Duchess's transformation over the years...