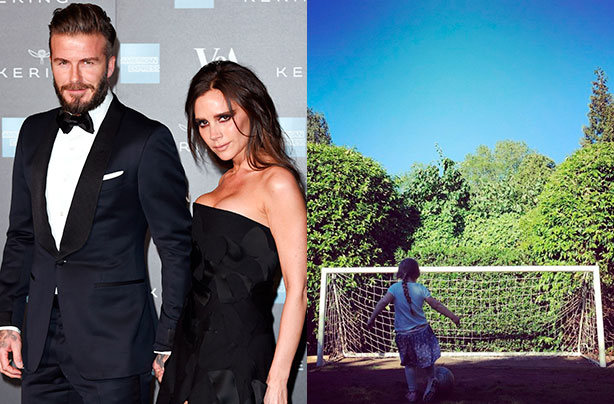 Victoria says 'no' to more kids: June 2015
Is it just us, or were you holding onto a small glimmer of hope that Mr and Mrs Beckham might add to their gorgeous brood, too?
If so, it pains us to say that it doesn't look like it'll be happening, as Victoria has well and truly put her heel-clad foot down. When asked in a recent interview if her and David would be having anymore kids, she responded: 'No, I've got four! I feel like I've done my bit.'
We wonder if her and David have disagreed on the subject? Back in 2012 when Harper was just seven months old, Becks, whilst appearing on Jonathan Ross?s show, revealed: 'We might have one more or two more, you never know. We?re not thinking about it yet, but if it happens, great. We?re enjoying the kids as it is. It?s always a thought.'
Sigh - looks like it's not meant to be David! Although it seems as though he has a tomboy in daughter Harper if this latest picture is anything to go by. David uploaded the image of his youngest playing footie with the caption:
Mia Hamm eat your heart out ⚽️⚽️ Harper Seven taking lessons from her brothers ( oh and her dad )


Victoria has previously joked about Harper not being 100% a girly girl, saying: 'Harper loves football. It's like a dagger going into my heart!'

As much as she is girly, she's a tomboy as well,' she laughed.