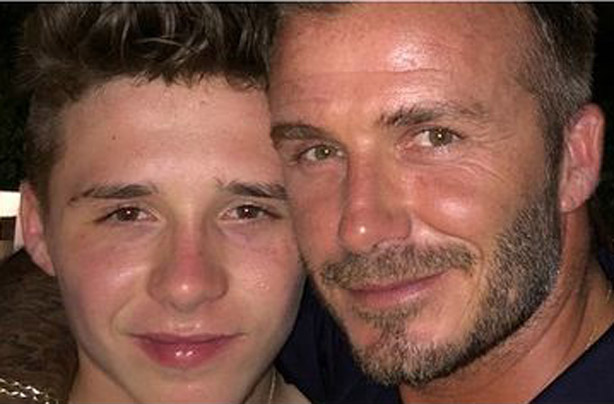 David on Brooklyn: 10 February 2015
Isn't it nice to know that even celebrity offspring shun their parents once they reach their teen years?
David's been lifting the lid on eldest son Brooklyn's 16th birthday plans, and it seems that just like every other teen around the world, he wants to spend it with his friends and not with his cringe-inducing parents (even if they are David and Victoria Beckham).
Speaking to a very giggly Susanna Reid on Good Morning Britain (don't worry Susanna, the fact that you resisted the urge to lunge at him deserves a medal), David said: 'I think he wants to go for a dinner with his friends and he'll have a separate dinner with his family... He's at the age now when he doesn't want me to drop him outside the school and things like that - which I definitely do anyway!'
He also added that his kids are known for trying to pull the odd sick day to get out of going to school: 'My children from time to time do get 'sore throats' in the morning, especially when there is certain things happening at school or their dad is going to play some game.
'They definitely try to get out of school. My son was playing football yesterday and he hurt his neck and the physio came over to me and she said, 'he's fine but his first question was 'do I have to go to school tomorrow?''
Cheeky sods!
Image: Instagram/
brooklynbeckham