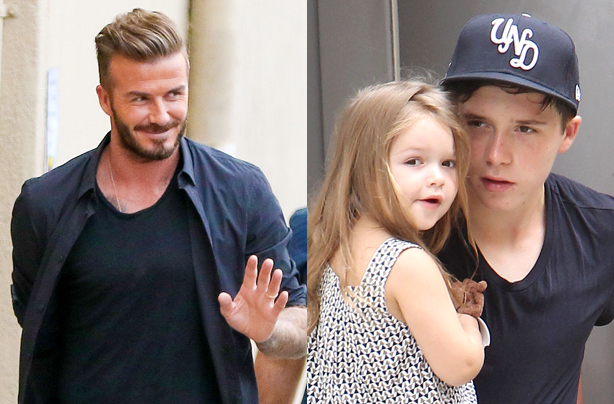 David Beckham: Harper thinks I'm fat!
He may be one of the most popular men in the world but it's comforting to know that David Beckham is still an embarrassment - and point of ridicule - for his family.
Appearing on an American chat show, David revealed some adorable insights into Beckham family life and its, well, pretty normal.
'I've become a taxi driver overnight. I'm like an Uber driver. From 7.30 in the morning I have drop-offs at four different schools. I pick Harper up at 12 then the boys at 4. Then the boys all train in a soccer academy every single night of the week until 9.30pm.' Sounds very familiar!
He also added that Brooklyn, now 15, is just as embarrassed of his famous dad as normal teenagers.
'He asked me to park around the corner and he would walk round, but I followed him and opened the window and shouted, 'Brooklyn I love you!'' he said.
And it seems Harper, 3, is getting in on the act too. David revealed that he has been on the end of his daughter's harsh tongue when she said: 'Daddy I love you but I don't like you, you're so chubby!'
Erm - we're not too sure we agree with you on that one Harper!
Click through to see more adorable pictures from the Beckham Family album...