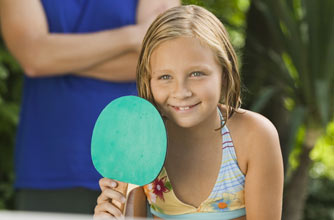 goodtomove tip No.30: Table tennis
In the run up to the Olympics there has been a table tennis initiative around the country with many parks having new table tennis tables installed. Make the most of this and buy some bats, the kids will love the challenge and will burn between 200-250 calories an hour, which is the equivalent to an easy stroll but a lot more fun!
goodtomove tip: If want to play at home, you could use an old paste table and buy a cheap net. The kids will love playing table tennis whenever they want.
Calories burnt in 15 mins: 62
Find out more
-
Move more and have fun with goodtomove
-
FREE planner and activities sheet to download
-
Motivation tips from Denise Lewis