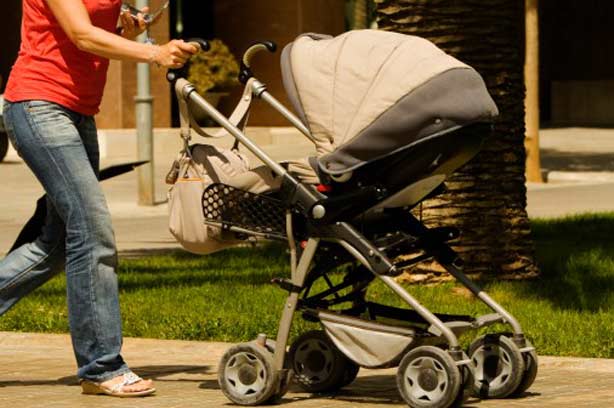 Cheap pushchairs and prams
What's the difference? A pram is the traditional coach-style one where the baby lies flat towards you while a pushchair is one where the baby sits facing away from you. A popular option now is a pram-style pushchair (pictured) which offers both upright and flat options and a comfortable padded seat. (It's recommended newborns lie flat for the first 12 weeks.)
Other features to consider include swivel wheels, a seat that can face towards or away from you, detachable carrycot and being easy-to-fold. If you might have more children, you might consider a double buggy as you could need one in the future. If you use public transport, lightweight and foldable are a must; if you drive, it should easily fit in the car.
If you don't need your baby to sleep when you're out (if you're only going out for short trips), a flat folding pushchair with a fully reclinable, padded seat is a cheaper option altogether. Features can include underseat shopping basket, multi-position seat and adjustable handle height.
3-wheeler or all-terrain pushchairs are very popular, but also expensive and bulkier, so unless you go walking in the countryside or intend to run around the park with your new baby, they may not be worth it.
Top tip:
Get the store to give you a full demonstration of the pram or pushchair and measure your car boot and doorways to ensure it will fit. Also, in the very beginning, a good-quality baby sling like this one from
Baby Calm
may be enough.
Prices vary from about £20 for basic pushchairs or around £50 with some handy features. Some of the best-value stores include Mothercare and Argos while online, look at
babys-mart.co.uk
,
kiddicare.com
,
babythings4u.co.uk
,
online4baby.com
and
pramworld.co.uk
. Product-testing and consumer charity
Which?
produce excellent buying guides for items like prams, car seats and more.