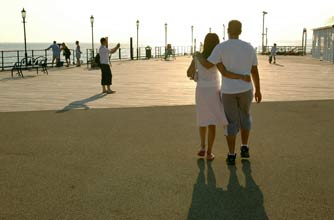 Adventure Island, Southend
Cost:
Pricing is by band. Blue Bands cost £20 for riders over 1.2 metres. Green Bands are for riders between 1 and 1.2 metres and Red Bands cost £10 for riders under 1 metre. If you buy the wrong one online, you can upgrade or downgrade it when you arrive. Parents (or anyone over 14) also ride free with children under 1.2 metres when they go on red/green band rides so it can work out great-value.
Open:
Times vary, with daily opening in June, July and August, and weekend- and half-terms-only at other times. The park is closed in December and January. Check at
adventureisland.co.uk
.

What's there:
Little ones under 1 metre are best suited to the 'red band' rides such as the Kiddi-Koats and Viking Boats, while the 'green band' offers more exciting options, such as the Fireball. The all-inclusive 'blue band' grants access to the full spectrum of amusements, including the popular Vortex and Tidal Wave rides. The advantage of Adventure Island is that once you've bought your band, you can go on each ride as many times as you like.

Buy tickets online at adventureisland.co.uk