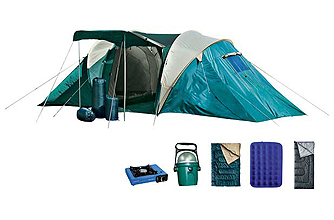 What camping equipment do you need?
The main items you need are:
- A tent (For a family, a 4-man tent may feel cramped but a family tent, often with 2 separate sleeping areas, a communal area and a porch for muddy and wet shoes, is perfect)
- A groundsheet
- Bedding
- Basic cooking equipment (see the next page for more info on this)
- Good quality sleeping bags, pillows and plenty of bedding and blankets (temperatures can drop at night even if it's been hot in the daytime)
- Airbeds (if you want - they make sleeping on the ground a lot more comfortable)
Borrow what you can if you're a first-timer. Otherwise, you can get the basic kit (tent, sleeping bags and ground sheets) for low prices in stores or online. A family tent costs around £90 from websites such as
worldofcamping.co.uk
and
halfords.com
. Online store
outdoorworld.co.uk
also sells cheap camping equipment such as a stove kit for £7.99, sleeping bags from £16, refillable lighters from £1.99 and a portable gas stove with 4 packs of gas for £16.99. Also check
Millets
and
Argos
. Supermarkets like Asda, Tesco and Lidl sometimes offer deals on camping equipment so keep your eyes peeled.
If you're a first-time camper, you can find campsites which have pre-pitched tents. That does cost more but if you're unsure about camping, it's a great way to trial it out.