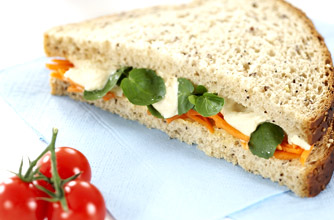 Savoury lunchbox filler: Hummus and carrot sandwiches
Hummus
and grated carrots in seeded bread makes an easy, meat-free sarnie that will help to regulate your child's blood sugar levels, avoiding a mid-afternoon energy slump.
Get the recipe now:
Hummus and carrot sandwiches
.


Hummus snack idea:
Make homemade
hummus
and veg batons for healthy nibbles that count towards their 5-a-day.