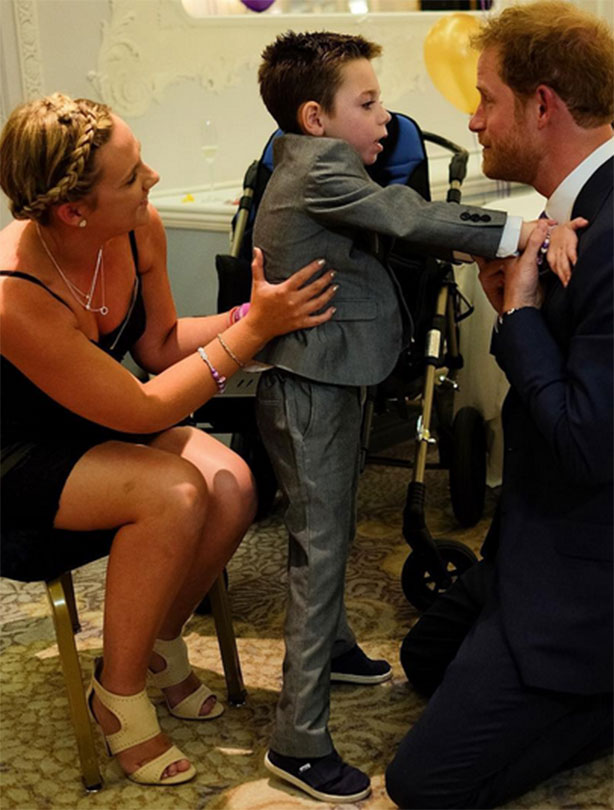 He's 'brilliant with kids'
Kensington Palace shared this heartwarming picture of Harry and award winner Ollie Carroll at the recent WellChild awards, writing: 'Prince Harry meets five year old Ollie, who tonight wins a @wellchild Inspirational Child Award.'

'Ollie was born a normal healthy baby, but from the age of two he developed problems with his walking and speech and was eventually diagnosed with the rare genetic condition Battens Disease.'

'One of Ollie's nominators described him as the "loveliest and happiest boy in the world", despite the daily battle he faces.'

And judging from the adorable snap, it looks like Harry and Ollie were firm friends from the get-go, with the terminally-ill five-year-old even using all of his strength to get up and give the prince a cuddle.

'You know, not everyone gets a hug, You are very lucky indeed,' Ollie's mum Lucy joked to Harry at the time.

She later told the Mail Online: 'Ollie isn't actually aware of who Harry is but just reacted instinctively to the way he was talking and interacting with him. He is brilliant with kids and just very natural.'

'He was very privileged as Ollie cannot use his legs but he just used his strength of stand up and hug him. I felt really proud of Ollie – and of Harry too!'

'I was so touched at the time he took to talk to Ollie. He even knew about his younger sister, Amelia, who is three and has also developed Battens. It was incredible.'

So sweet - just when you thought Harry couldn't get any more charming!