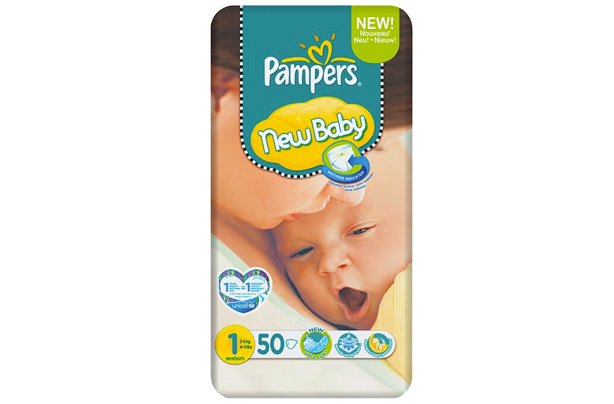 Pampers new baby nappies
Pampers says its newborn nappies lock away wetness and protect your baby's delicate skin, using super-absorbent technology. goodtoknow mum Helen Booth joined our testing panel to try out Pampers new baby nappies on her 6-week-old son, Sebastian, and scored the nappies out of 5 for...

Comfort: 5/5 highest score!
Skin care: 5/5
Day time use: 5/5
Night-time use: 5/5
Absorbency of wee: 5/5
Containing poo: 4/5
Value for money: 3/5
Overall newborn nappy score: 32/35

Helen said: 'Pampers new baby nappies were very soft, absorbent and great for breastfed babies like Sebastian. As he's breastfed he has runny poos and I did notice a very slight leakage around his leg and at the top of his back once during the trial, but he didn't get a sore bottom like he did with another brand.

'Sebastian slept between feeds because the nappies were so absorbent (for both wee and poo) and he wasn't uncomfortable - even a heavily-soaked nappy didn't feel wet! And the wetness indicator was great for easily checking if he needed changing while he was sleeping as I could see it through his vest, meaning I didn't need to disturb him unless necessary.'

Would you use this nappy again? 'The nappies fitted my boy perfectly and were really soft, almost like cotton wool compared to other nappies I've tried, which seemed a bit plasticky and I felt happy they were comfortable enough for Sebastian's delicate new skin. On the negative side the nappies are more expensive than other ones.'

Have you tried this nappy?
We'd love to hear what you thought of this nappy, so please leave your review in the comments section below and rate it by clicking on the stars above.