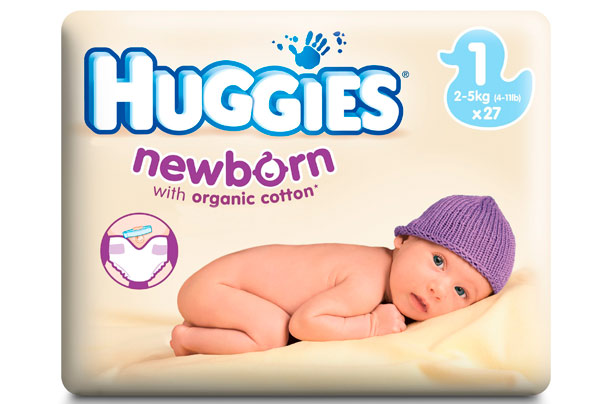 Huggies newborn nappies
Huggies says its newborn nappies, made with organic cotton, deliver unbeatable softness and protection. goodtoknow mum Jolene Lynch joined our testing panel to try out Huggies newborn nappies on her 7-week-old son, Huxley, and scored the nappies out of 5 for...

Comfort: 4/5
Skin care: 4/5
Day time use: 4/5
Night-time use: 4/5
Absorbency of wee: 5/5
Containing poo: 4/5
Value for money: 2/5 lowest score!
Overall newborn nappy score: 27/35

Jolene said: 'Huggies newborn nappies were soft and comfortable, even when full of wee after a few hours. The real test was the early-morning-explosive-poo test and they managed to contain this without any coming out of the top or sides, which has happened with other nappies.

'Huxley, like many babies, has chubby legs, but the nappies fitted nicely around his thighs without leaving any marks. Most nappies have a character on the front of the nappy so when mum is very tired, it's easy to figure out which way round to put the nappy on, but Huggies have put their character on the back, resulting in me trying to put the nappy on back to front several times!

'Huggies newborn nappies are soft, very flexible and not too plasticky and I liked the fact they were probably a bit better for the environment as they use organic cotton.'

Would you use this nappy again? 'You are paying a premium price for a premium nappy and there are many cheaper nappies that do almost as good a job, so I think I would use Huggies for nighttime and a cheaper nappy for the day, like Tesco baby newborn nappies.'

Have you tried this nappy?
We'd love to hear what you thought of this nappy, so please leave your review in the comments section below and rate it by clicking on the stars above.