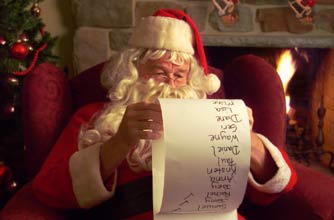 How to make the kids believe in Santa
The magic of Christmas morning is unique. The kids rush into your bedroom excitedly proclaiming that Santa has been, holding their stockings with a proud smile. We know Santa plays a big part in the Christmas Day experience for kids and that's why we've put together a list of handy hints to keep your little ones' imaginations alive.

It might be years before they ask 'Mum, is Santa real?' Or it might only be next week, that's why goodtoknow has compiled a round-up of ideas to keep the Christmas magic and their belief in Santa alive. Whether you leave a glittery trail on your front lawn on Christmas morning and tell the kids it's flying reeindeer dust, send the kids a personalised Santa letter, or just want to add an extra treat for them under the Christmas tree, our ideas will be fun to carry out, very well-received and will help to make the kids believe in Santa.

If your kids have no doubts about Santa's existence, then these exciting ideas promise to make his arrival even more thrilling. If you're worried that others could jeopardise their belief in Santa, then these top tips are guaranteed to help defeat their doubts. And, if you've got children who are just too old to believe in Santa now... well we've got some suggestions that can include them too.

Click through our gallery of ideas to help you keep your kids believing in Santa...