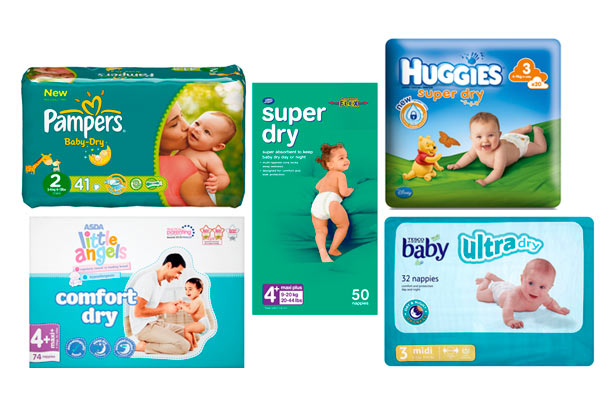 Which is the best baby dry nappy?
When you're trying to get your baby to sleep for longer, the last thing you want is them waking up with a wet nappy in the middle of the night. So us sleep-deprived mums need to know the most comfortable and absorbent nappy to keep our babies dry morning, noon and night.


We asked 6 lovely goodtoknow mums to test 6 of the most popular baby dry nappies out on their babies and score them out of 5 for comfort, skin care and absorbency during day and night-time use, to help you decide on the best nappies. And as the cost of nappies can really add up, especially when it feels like you're buying a pack every time you go to the shops, our testers have also scored each nappy for their value too.


The nappies we tested are: 

Pampers Baby-Dry nappies (£6.49 carry pack)

Huggies super dry nappies (£6.49 carry pack price)
Asda Little Angels comfort dry nappies (£5.97 larger economy pack)

Tesco baby ultradry nappies (£4.68 carry pack)

Boots super dry nappies (£4.68 carry pack)


Pampers Simply Dry nappies (£4.50 carry pack)

Browse through our gallery of nappies to find out what each of our tester mums said about them and how they scored each nappy PLUS add your own nappy review in the comments section below and rate them too by clicking on the of stars above.
What's the score?
A nappy with a score of...

1
= terrible

2
= not great

3
= good enough

4
= very good
5
= brilliant