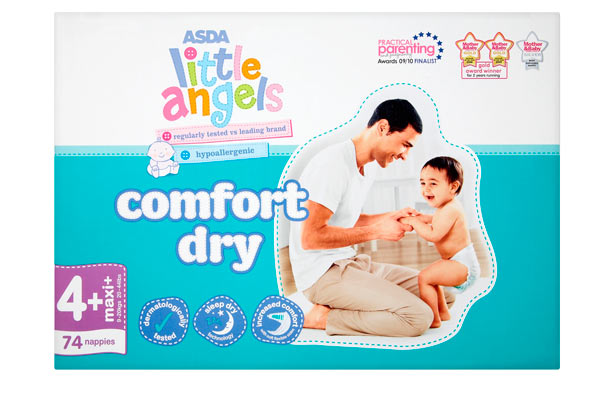 Asda Little Angels comfort dry nappies
Asda says its comfort dry nappies have a comfortable and super-absorbent core to help draw wetness away from your baby's skin and its breathable materials keep your baby dry at night. goodtoknow mum Emma Pattison joined our testing panel to try out Asda Little Angels comfort dry nappies on her 10-month-old son, Frederick, and scored the nappies out of 5 for...

Comfort: 5/5
Skin care: 5/5
Day time use: 5/5
Night-time use: 5/5
Absorbency of wee: 5/5
Containing poo: 5/5
Value for money: 5/5
Overall baby dry nappy score: 35/35

Emma said: 'Even though Frederick is big, Asda Little Angels comfort dry nappies were a great fit. We've had leakages using Huggies nappies (especially overnight), however the Asda nappies only leaked once when I left the nappy on for too long, but I don't think they would have leaked at all under normal circumstances. Plus we had no leakages from the nappies in the night.

'I did notice that one nappy already had a tab open when I got it out of the pack but it wasn't really an issue. And when I left the nappy on for too long I noticed nappy crystals.'

Would you use this nappy again? 'Yes. I 'm really impressed with these nappies and I'm quite disappointed that they've run out at the moment, as I am back to Huggies, which I will not be buying again because they're unreliable.'

Have you tried this nappy?
We'd love to hear what you thought of this nappy, so please leave your review in the comments section below and rate it by clicking on the stars above.