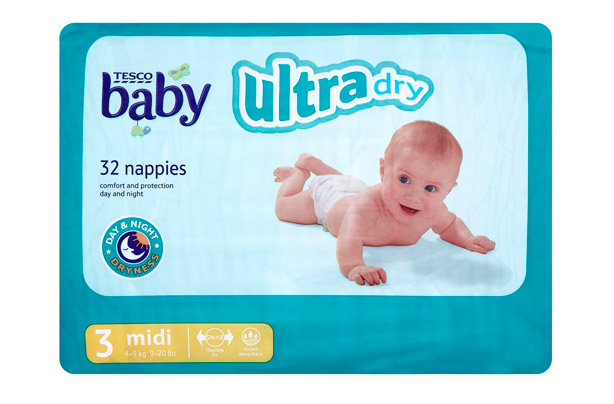 Tesco baby ultradry nappies
Tesco says its ultradry nappies offer your baby comfort, protection and day-and-night dryness. goodtoknow mum and our Family channel editor, Jennifer Bounsall, joined our testing panel to try out Tesco baby ultradry nappies on her 18-month-old son, Samuel, and scored the nappies out of 5 for...

Comfort: 4/5
Skin care: 4/5
Day time use: 4/5
Night-time use: 4/5
Absorbency of wee: 4/5
Containing poo: 4/5
Value for money: 5/5
Overall baby dry nappy score: 29/35

Jenny said: 'Tesco baby ultradry nappies were surprisingly soft, plus nice and flexible around Samuel's thighs, which is great because he's at that active age now. I was pleased to see that the nappies didn't rub against his legs and hips like I've noticed with some of the more plasticky value nappies I've tried.

'Samuel seemed happy to stay in a wet nappy, even after a few hours, so I knew they were doing their job at absorbing the wetness away from his skin, but I did notice that a full nappy started to drop down after a while. The nappies also worked well after a full night's sleep, without leaking once during the trial.'

Would you use this nappy again? 'I actually prefer using pull-up nappies on Samuel, because they're easier for me to put on him, as he hates lying down to have his nappy changed at the moment. However, as his nursery won't accept pull-ups, I'll definitely be buying these nappies to use there, because they're nice and cheap and really do the trick.'

Have you tried this nappy?
We'd love to hear what you thought of this nappy, so please leave your review in the comments section below and rate it by clicking on the stars above.