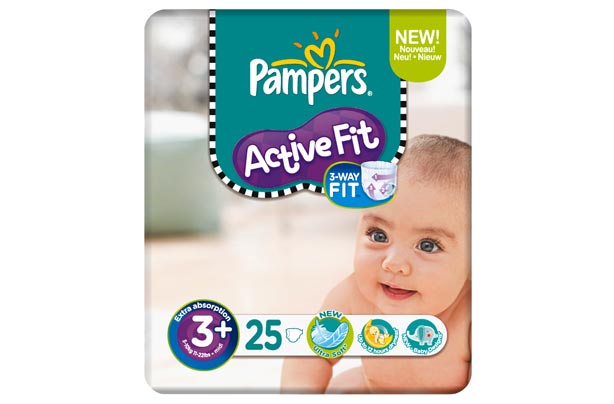 Pampers Active Fit nappies
Pampers says its Active Fit nappies are its best fit, ultra soft and offer up to 12 hours of dryness for your active baby. goodtoknow mum and Family channel editor, Jennifer Bounsall, joined our testing panel to try out Pampers Active Fit on her 18-month-old son, Samuel. Jenny scored the nappies out of 5 for...

Comfort: 5/5 - highest score!
Skin care: 5/5
Day time use: 3/5
Night-time use: 1/5 - lowest score!
Absorbency of wee: 2/5
Containing poo: 4/5
Value for money: 3/5
Overall active fit nappy score: 23/35

Jenny said: 'Pampers Active Fit nappies are incredibly thin, light and comfortable so I was really keen to try them out on Samuel as I was looking for a nappy that would allow him to move around more.

'However, Samuel had quite a few leaks during the trial, as the absorbent layer doesn't reach all the way up the back of the nappy. I understand that Pampers have taken the back protection away to allow for better movement, but when Samuel did a wee lying down, it would often leak up his back.'

Would you use this nappy again? 'I really like the thinness of the nappies, but in reality I couldn't use them for naptime or at night as I would worry they might leak. If I continued to use them I would have to buy a separate night-time nappy and I can't afford that.'

Have you tried this nappy?
We'd love to hear what you thought of this nappy, so please leave your review in the comments section below and rate it by clicking on the stars above.