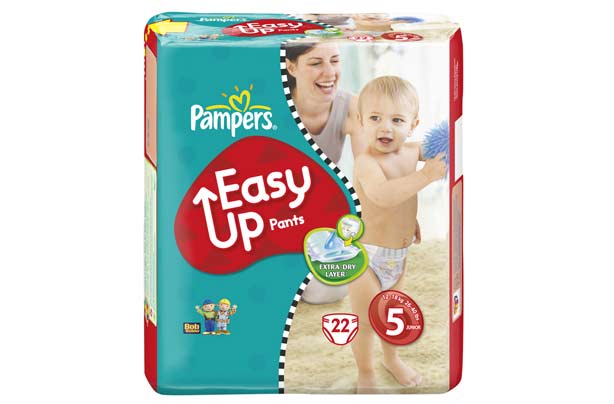 Pampers Easy Up pants
Pampers says its Easy Up pants promise unbeatable dryness and they come with tearable sides to make changing your baby easier. goodtoknow mum Elizabeth Wrag joined our testing panel to try out Pampers Easy Up pants on her 20-month-old son, Harry. Elizabeth scored the nappies out of 5 for...

Comfort: 5/5
Skin care: 5/5
Day time use: 5/5
Night-time use: 5/5
Absorbency of wee: 5/5
Containing poo: 5/5
Value for money: 4/5
Overall pull up nappy score: 34/35

Elizabeth said: 'Pampers Easy Up pants suited Harry's needs as they were soft against his skin and allowed him to walk around freely, without being restrictive or bulky.

'I didn't experience any leakages with these nappies overnight or with any soiled nappies and they were also really easy to put on and take off. The nappies are good quality and good value for money too.'

Would you use this nappy again? 'I have been won over by Pampers Easy Up pants and would definitely use them again and recommend them to my friends. They were great when put to the test for 10 hours' night-time wear! And Harry seemed perfectly happy wearing them as he was free to run around and play as usual. He also noticed the Bob the Builder design on the front, which made nappy changing more fun for him.'

Have you tried this nappy?
We'd love to hear what you thought of this nappy, so please leave your review in the comments section below and rate it by clicking on the stars above.