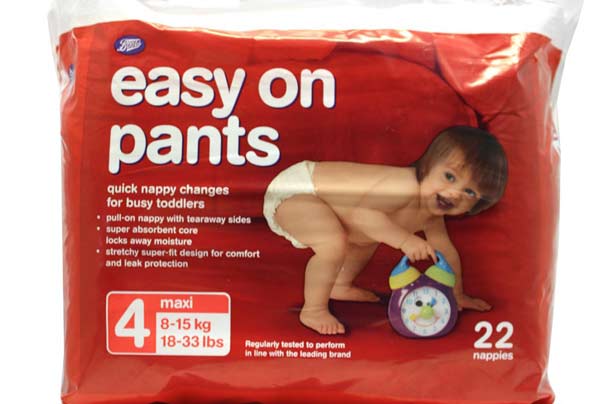 Boots easy on pants
Boots says its easy on pants are stretchy and protect your toddler from leaks with its super-absorbent core. goodtoknow mum Claire Darragh joined out testing panel to try out Boots easy on pants on her 21-month-old son, Luka. Claire scored the nappies out of 5 for...

Comfort: 4/5
Skin care: 4/5
Day time use: 3/5
Night-time use: 4/5
Absorbency of wee: 4/5
Containing poo: 1/5
Value for money: 3/5
Overall pull up nappy score: 23/35

Claire said: 'Generally Boots easy on pants were great, but on a couple of occasions poo came out of the nappy, resulting in soiled clothes - which was uncomfortable for the little one and meant lots of scrubbing and washing for me. The elasticated inside pant bit perhaps needs to be a better fit to stop things escaping.

'And nappy changes were an absolute nightmare if Luca had done a number 2 as it would fall out as I pulled the nappy off, so I'd have to have him standing up to get it off, but then try and lay him back down, trying not to let the dirt go everywhere, which wasn't easy when Luca was squirming and wanted to run off and play.'

Would you use this nappy again? 'No, because of the style of the nappy. I found that they weren't easy to get on and off and are not the most practical nappies if your baby does a number 2 - unless there's a special method of taking them off cleanly, which I haven't figured out. With normal nappies you can adjust them as you wish. With these pull-on type nappies you are unable to do this.'

Have you tried this nappy?
We'd love to hear what you thought of this nappy, so please leave your review in the comments section below and rate it by clicking on the stars above.