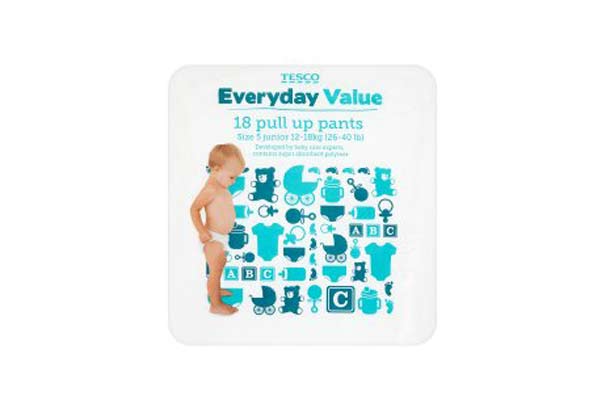 Tesco Everyday Value pants
Tesco says its Everyday Value pants are developed by baby care experts. goodtoknow mum and Family channel editor, Jennifer Bounsall, joined our testing panel to try out Tesco Everyday Value pants on her 18-month-old son, Samuel. Jenny scored the nappies out of 5 for...

Comfort: 4/5
Skin care: 3/5
Day time use: 2/5
Night-time use: 4/5
Absorbency of wee: 3/5
Containing poo: 4/5
Value for money: 3/5
Overall pull up nappy score: 23/35

Jenny said: 'Tesco Everyday Value pants look really basic and don't have any design whatsoever, but they were very soft, stretchy and fitted Samuel better than I thought they would. I was also pleased to find they didn't leak, even during the night.

'The only thing that put me off was that the nappy got very heavy, very quickly and fell down after a few hours.'

Would you use again? 'I'd keep these nappies on standby in case I ran out of my favourite pull-up nappy. However, I'd have to change Samuel twice as often as I usually do, to avoid the nappy falling down - so these nappies actually aren't as cost effective as they might seem. I'd prefer to buy a pull-up nappy that lasts longer.'

Have you tried this nappy?
We'd love to hear what you thought of this nappy, so please leave your review in the comments section below and rate it by clicking on the stars above.