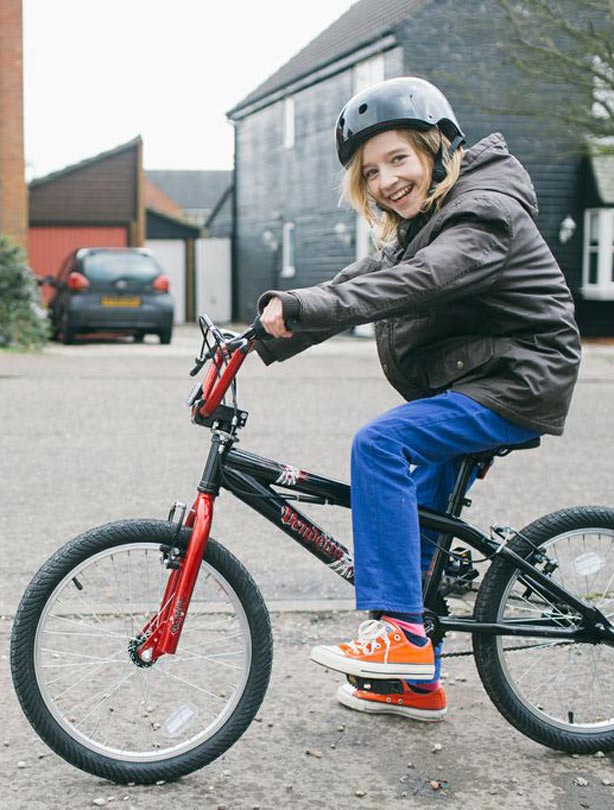 Apollo Vendetta BMX bike
Tester:
Dillon, 11, from Essex, who's autistic and has dyspraxia and isn't confident on a bike
The bike:
Apollo Vendetta BMX 20in bike
Price:
£199.99 (currently £99)
From:
Halfords.com
Score: 5/5!
Dillon's mum Tracy said:
'A lot of Dillon's friends cycle to school, but his dyspraxia means he finds it hard to balance. Until now he hasn't shown much interest in cycling.
He's quite into rock and punk music though, and when the bike turned up he loved the design - the red and black colour and 'alternative' graphics. The stunt pegs on the wheels also make it look pretty cool - 'awesome bananas' in Dillon's own words!
The bike is sturdy and well built, better than any bike we've had for our 3 boys over the years, and yet really affordable. It's got a discreet black bell that got a lot of use on the way to school! Dillon thought it was very smooth to ride, and because he has a grit scooter, the stunt pegs really appeal to him, he will definitely be practising to use those. Safety wise, the brakes are excellent and there are plenty of reflectors, and when it was delivered it was ready to cycle - all we had to do was adjust the seat.
Dillon is keen to cycle for the first time in ages, and it can only help with his dyspraxia. We can't wait to go out on a family bike ride with our other 2 boys.