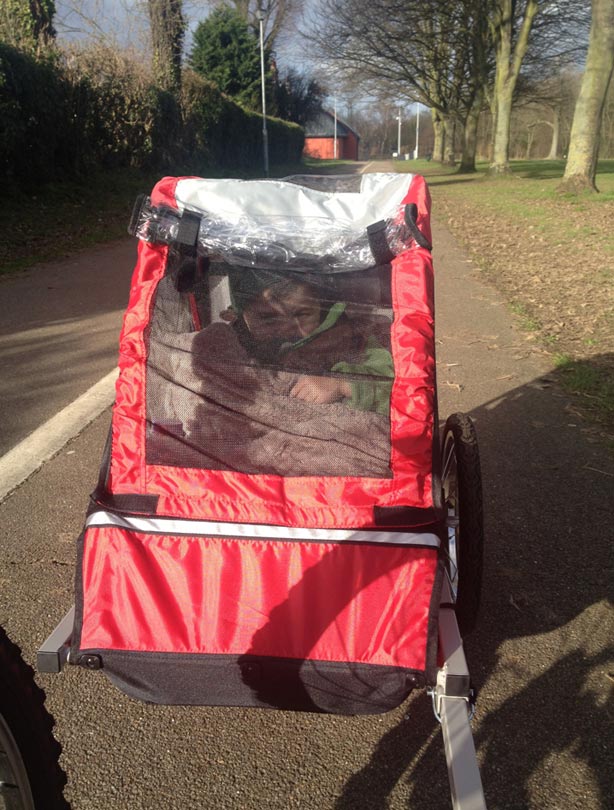 Bellilli single bike trailer
Tester:
Billy, 3, from Hitchin, who has special needs
The bike:
Bellilli single bike trailer
Price:
£109.99
From:
Halfords.com
Score: 4/5
Billy's mum Sarah said:
'Harriet, 5, learned to ride a bike when she was quite young, and we always enjoyed taking her out and about on our bike seat. But Billy, 3, was diagnosed with a rare multiple food protein intolerance when he was 1, and has a Freka Peg Tube fitted directly into his stomach as he can't eat. It's bulky, and the straps of a bike seat rub against it uncomfortably. I was worried if they caught on it they could pull it out.
The Bellilli single bike trailer was easy to put together, although the way it fixes to the bike can be a little fiddly. Billy loves sitting in it as it's cosy and warm and he can play with his toys. Because the bike trailer is a single, it's the same width as the handlebars on my bike so easy to judge gates and distances. I can cycle right into the school playground, no fuss.
The trailer is very secure and I didn't worry about being on the road with it. Drivers overtook considerately. It also doesn't interfere with my sense of balance.
Harriet also loved the trailer, and I cycled into town with her to go shopping at the weekend while Billy played with his dad. That journey is too far for Harriet to cycle, but it's a nightmare to park the car, so the bike trailer was a great alternative.
'