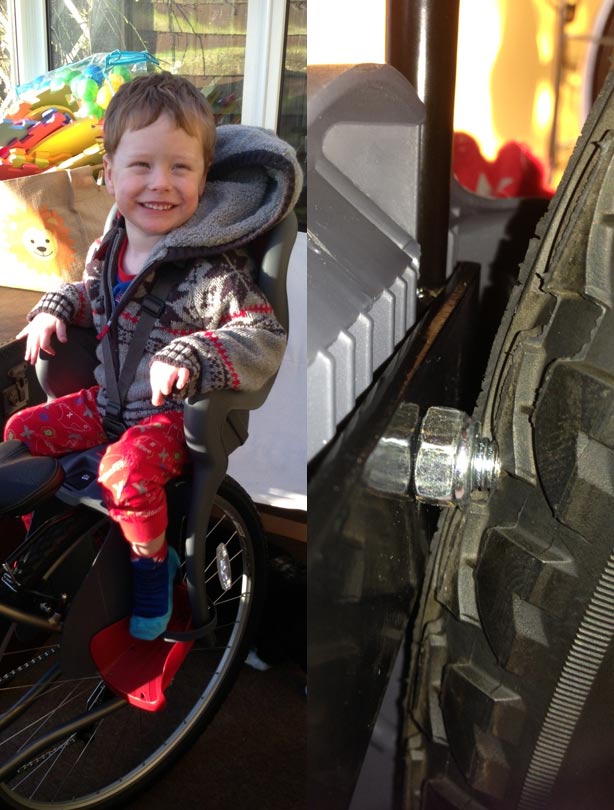 Bellilli Bike seat
Tester:
Daniel, 3, from Kings Lynn
The bike:
Bellilli Bike seat
Price:
£39.99
From:
Halfords.com
Score: 2/5
Daniels' mum Alice said:
'Daniel's pre-school isn't local, and it was taking me an hour to walk there and get home again. I don't drive, but my husband took him in the car a couple of times and it was the same - the traffic is terrible.
I've not cycled since I was a teenager, so I was quite nervous. I bought a new hybrid bike as my old bike wasn't in very good condition, and as Daniel is 3 and quite tall we decided a rear-fitting bike seat would be the best option. I was advised by my local bike shop I would need a man's frame to work with the Bellilli bike seat.
When the Bellilli turned up it looked quite good. The seat is a solid plastic mould with lots of padding, and a 'universal fit' bracket that easily attaches to the seat post. Daniel was very excited, and watched CBeebies sitting in the seat in our lounge!
The problems started when my husband tried to fit the seat. While the fitting itself was easy, once Daniel was in the seat, the bolts from the fitting bracket touched the rear wheel. The seat has 2 fitting positions, and we tried the higher one, but the same thing happened. We took it to our local bike shop for advice, and they said because I am quite small - 5ft 3in - my bike frame was simply too compact to accommodate the seat.
My husband later fitted the seat to his mountain bike, and took Daniel for a short ride. It was comfortable to ride with the seat on the bike, but the seat itself bounced up and down, which Daniel quite enjoyed! But it made us feel unsure it was the safest option. I think if you had a pannier frame for the seat to rest on, it might be better.
'