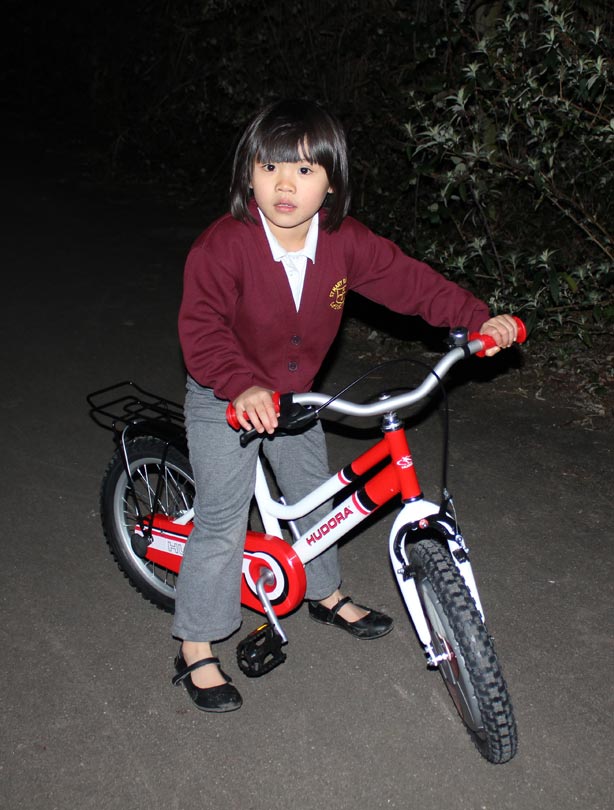 16in Gyro Wheel
Tester:
Caroline, 6, from Bristol
The product:
16in Gyro Wheel
Price:
£115
From:
Gyrobike-europe.com
Score: 3/5
Caroline's mum Ellen said:
'Caroline has never really got the hang of a bike without stabilisers. We go out for family rides with Caroline on the tag along, but now her brother is old enough to cycle independently, that's what she wants to do as well.
Gyro Bike launched their balance bike a few years ago.It self stabilises making it really safe for kids to use. The bike turns into a 12in pedal bike, but that's obviously too small for Caroline. Now you can buy a 16in wheel seperately that you can fit onto your existing child's bike.
When the Gyro wheel arrived we were quite daunted. It's huge and really heavy and it needed to be charged up for 2 hours before we could use it, which we didn't expect. Once it was charged, though, we began playing with it before we put it on the bike. It's amazing how when you turn it from side to side it resists you.
Fitting it to the bike was very fiddly, and it didn't fit Caroline's existing bike which had V brakes. It will only fit a bike with calliper brakes, which need to be disengaded, and there needs to be 8.5cm clearance between the front forks. We got a different bike, a Hudora RS-16 2.0, and used the spare washers provided to make up the space between the wheel and the front forks.
Caroline was quite nervous at first, especially as when you start the motor in the wheel it's very noisy. But she liked the flashing red and green lights! I held on to the back of her jumper while she cycled up and down the path through the park - she had a huge smile on her face! When I felt she was ready I let go - I didn't tell her, I just jogged behind. She didn't notice at first and when she did she started laughing - she was really excited to be cycling alone!
The wheel is very heavy, and Caroline struggled to push or turn the bike when she wasn't cycling, but she enjoyed the feeling of cycling without stabilisers and feels a lot more confident to try a normal bike now. We also have a friend whose son has dyspraxia, and they are going to try the wheel too as they think it would help with his balance. A very interesting product!


Where to next?

-
Win the products we tested!
-
Balance bikes tested by you

-
Outdoor family fun