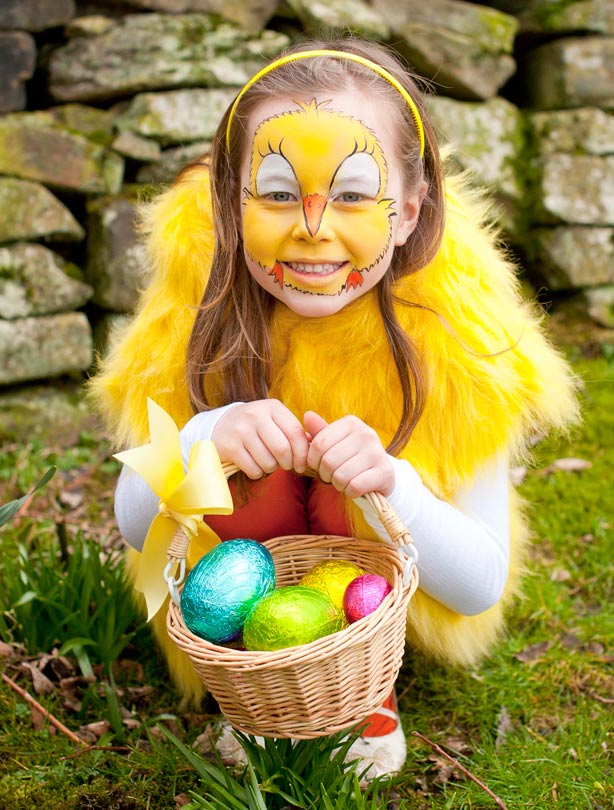 Chick face paint
Do your kids fancy getting dressed up for Easter this year? Help them feel like a spring chicken with this cute Easter chick face paint idea. Our step by step instructions to create this chicken face paint are really simple and can be achieved in just 3 easy steps. Plus, this chicken face paint is great as it can be used on both boys and girls. Armed with a few
Easter eggs
, your cheeky chicken will be ready for spring.
To paint the chicken face paint find a comfortable place to work and cover surfaces in case of any spillages. Water-based face paint is best as they wash off easily with soap and water, so no sore faces when the fun's over! Try Snazaroo's Rainbow Facepainting Kit which has all the colours you'll need for the chicken face paint and more, from
snazaroo.com
(£12.49). Face paint is safe to use on most skin types but always do a patch test of the paint on the back of your child's hand. If there is no reaction in an hour or so it should be safe to use.
To create the chicken face paint you will need:
• A pot of clean water
• Water-based face paint in white, yellow, orange and black
• Face painting sponges
• 1 thick paintbrush
• 1 thin paintbrush