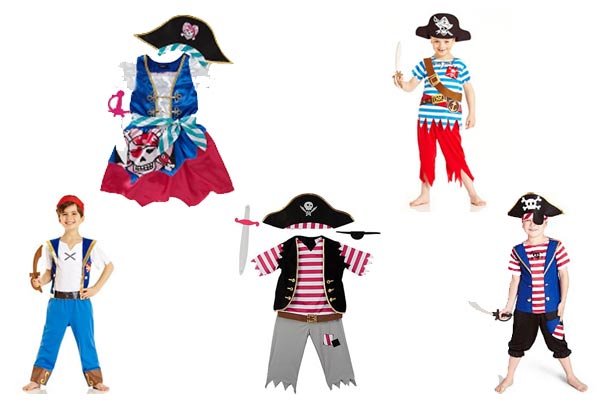 Pirate costumes
If you're holding a pirate party or your child has been invited to one, you'll need a pirate costume to make sure they're all ready to hoist the Jolly Roger and sail the seas in their galleon, looking for swashbuckling adventures! Luckily we've found a real treasure trove of pirate outfits for children in the shops and online, starting from just £8 of gold coins.

Your child could be a pirate captain, a straightforward pirate with eye patch and cutlass and if it's a really sunny day, the sunsafe pirate outfit is perfect. And girls don't have to be left out of the pirate party - they can join in too with a special pirate girl outfit complete with pink eye patch on the hat and sequinned bodice.

If you're creative you could try making your outfit yourself, with a little help from one of the packs below.

Don't forget the extras your child will need too! Maybe a parrot on the shoulder, an eye mask, a cutlass for swashbuckling fun or maybe a hook for a hand?

Now your child's ready to enjoy the perfect pirate party!