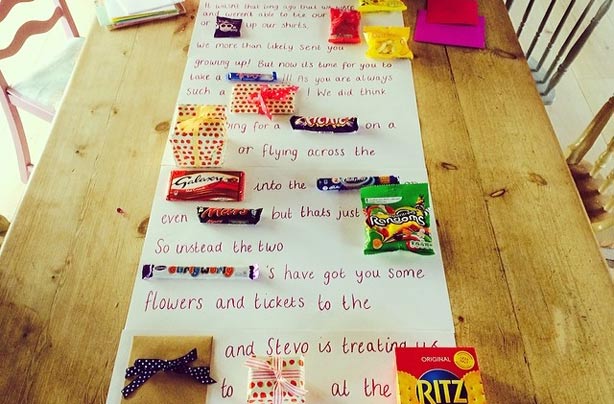 Make a confectionery story poster
This genius idea is one that we spotted on Facebook, and isn't it sweet? It might cost you a few quid to buy all the chocolate, but it's such an inventive way to wish the lovely lady in your life a special day.
The beauty of this idea is that you can make up whatever story you'd like and be really creative with which sweet treats you use, and you can include some presents that they'll have to unwrap to get the next word in the message.
This one, from two daughters to their mum reads:
'It wasn't that long ago that we were [Jelly Tots] and weren't able to tie our [Strawberry Laces] or [Cadbury's Buttons] up our shirts. We more than likely sent you [Foam Bananas] growing up! But now it's time for you to take a [Time Out]!!! As you are always such a [surprise present!]. We did think of going for a [Picnic] on a [surprise present!] or flying across the [Galaxy] into the [Milkyway] even [Mars] but that's just [Rowntree's Randoms]. So instead the two [Curly Wurly]'s have got you some flowers and tickets to the [surprise envelope!] and Stevo is treating us to [surprise present - we're guessing cake] at the [Ritz Crackers].'
Picture taken from: Sam Tooley on Facebook