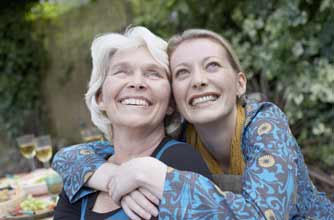 Your mum
You love your mum. She's been there for you through thick and thin, she helps with the kids, gives great advice and you'd be lost without her. BUT, you do not, under any circumstances, want to turn into her! (And your other half is pretty keen for that not to happen either...)

But, try as you might to stop it, resistance is futile. The signs are there, and they are getting more and more frequent and harder to ignore every day. You ARE turning into your mother and there's nothing you can do about it.

Whatever little tell tale signs you think you've noticed (the things she says, her turn of phrase or just the way she holds her cup of tea) and have tried to get a handle on, forget it. It's in your genes, you've been programmed since childhood, there's no escape.

Check out our round up of the things you're already doing that mean you're turning into your mum and see how many you recognise - we reckon you'll be surprised how familiar most of these will sound!