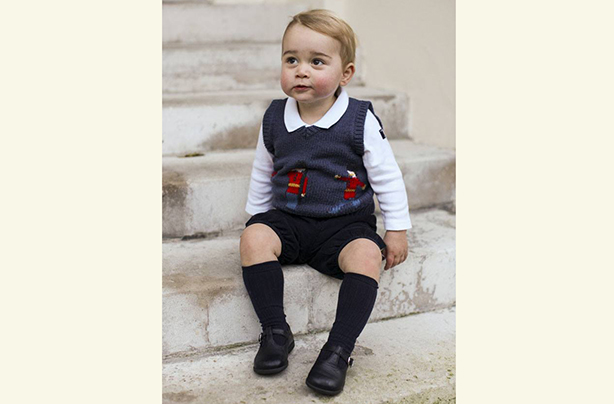 Prince George: 13th December 2014
Kate and Wills have released George's official Christmas 2014 pictures via
Facebook, with the British Monarchy's page
saying: 'The latest photos of Prince George for you! Our little Prince is pictured sitting on the steps of Kensington Palace.'
The pictures were the first release since
Prince George's first birthday in July
. Little George looks as happy as can be as he sits on the steps of his London home, wearing navy shorts and a classic knitted Christmas jumper. With rosy cheeks and a big cheeky smile, this little Prince seems to only be getting cuter with age.
It is thought that the pictures were released by Kate and William as a special thank you to the press for respecting their wishes to let Prince George grow up in relative privacy. ITV News commented: "Royal commentator Robert Jobson said: 'I think what's important about these photographs is that the royal family have released them in acknowledgement that the paparazzi have allowed Prince George to grow up without intrusion. And I think that's very much a thank you in a way.'"
We love that Kate and William are giving George as normal a childhood as they possibly can and it only makes the rare glimpses we see of him even more special!
Image: TRH The Duke and Duchess of Cambridge/PA