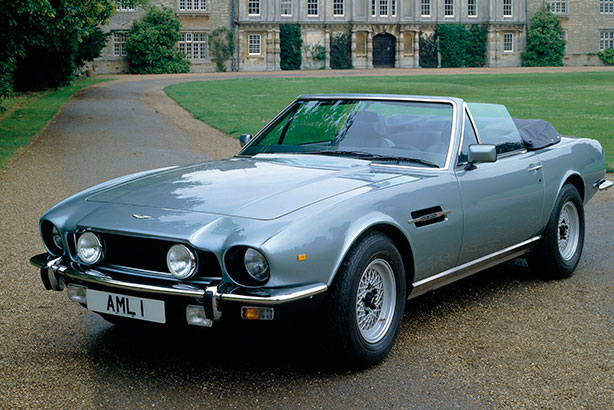 Prince George's first car
Prince George is in line to inherit some fairly substantial presents from his father Prince William, 33, but we think this might be the best yet.

Two-year-old George might be over a decade away from getting his driving license but that doesn't stop him from racing around Amner Hall in his fleet of toy cars.

We heard before how the royal tot's favourite toy is a £100 toy tractor from agricultural company John Deere, a firm which supplies the Queen with all her farm and gardening needs.

And whilst a tractor is the perfect motor for his country life in Norfolk, like any young boy, George is aware that he needs to make a good impression when he visits his grandmother in London.

So Prince William has decided to gift his first son with his Aston Martin V8 Volante - a smaller toy version modelled on the car that Timothy Dalton drove as James Bond in The Living Daylights film (pictured).

The Duke of Cambridge originally received the Aston Martin as a present from his brother Prince Harry in 1988, when Harry was four years old.

The Sunday Express has reported that Wills has taken the car out of the Sandringham museum on the Queen's estate to have it renovated for his child.

'The car has been in the Sandringham museum for many years after William and Harry outgrew it? but it's always belonged to them so there was nothing to stop them using it again.'

'Everyone is looking forward to seeing George drive it. I should think he'll be in the car within a year.'

George only started at his nursery school in January so we are sure he wants to make a good impression with his classmates - perhaps we will see him rolling up to the Westacre Montessori school in his new set of wheels?