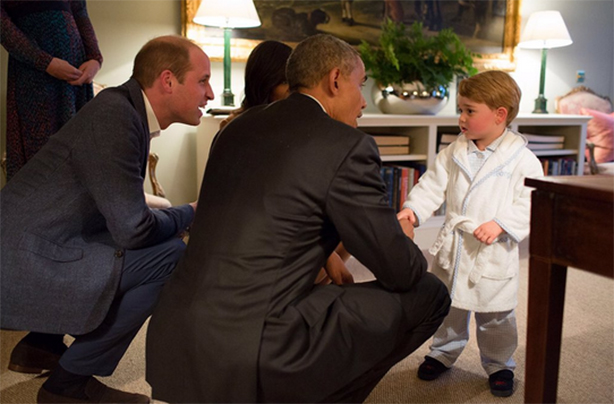 Prince George meeting President Obama
Sometimes it's hard to choose who are favourite Prince is, what with
lovable Prince Harry
and cheeky Prince George competing for our affections, so you can understand how wonderful we find any story with BOTH of these chaps in it.
The latest snapshot into their relationship as uncle and nephew came from Harry during an appearance on Good Morning America where he appeared with Michelle Obama to promote the Invictus Games.
The pair got chatting about Geroge?s recent meeting with the American President and his wife at Kensington palace, where he thanked them for a rocking horse they had given him as a gift. All while dressed in his personalised dressing gown, of course.
In the interview the First Lady revealed George called his uncle out on his demure behaviour. She said, ?throughout he was like, "Uncle Harry, why are you so quiet?"'
Laughing, Harry added: 'Usually I'm throwing him around the room and stuff.'
We can picture it now, adorable!
Picture:
Twitter/ Kensington Palace