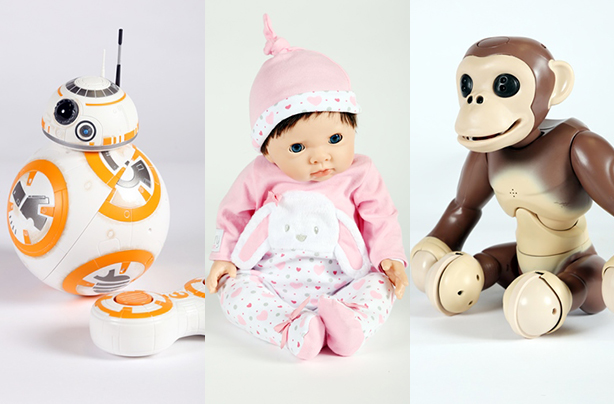 Top Christmas toys 2016
Every year there are a select number of Christmas toys that will fly off the shelves, and if you're anything like us you'll find it a tough business to be up to date with
all
the things the kids want.
Big wig toy-insiders at all the most popular toy stores release their predictions of all the products they think will be in high demand this Christmas - and here we pass on all that information to you, by rounding up the ones we know your kids will want to get their hands on. Argos were have been first off the mark with their list of 11 toys that they think are sure to be the most popular come December.
They also polled 100 children aged between five and 13 to find out what they thought would be the most popular toys for 2016. Over a quarter of the little ones polled said self-building Lego would be top while 14% said self-tidying toys were sure to be a hit (we're really hoping this prediction comes true)!
Now Amazon have also released their predictions, and with everything from a dolls house to a karaoke kit and Lego galore on the list, there's definitely some strong contenders!
Technology, unsurprisingly, plays a massive part in the top Christmas toys for 2016 list, with virtual pets, wearable tech and toys that never run out of batteries among our top list. There are classics too, though, like firm favourites Lego sets and baby dolls.
With prices set to vary over the weeks before Christmas, it's important to get in there quick to get the toys your kids really want for the best possible price. It's always good to have a look online and compare costs before heading to the high street because prices can vary hugely from place to place. In fact, we've found the answer to stress-free Christmas shopping is to buy online and have everything delivered. Trust us, it's worth the postage.
For Christmas present ideas for the adults in your family, take a look at our
GoodtoKnow recommended gift guide
. As well as suggestions for your little ones, our food team has hand selected the best recipe books and kitchen gadgets that are a must have for December 25th.
Ready to find out which toys are set to be the most popular this year? Scroll through the images to find out the biggest hits in the toy world, so you can grab them before they sell out!