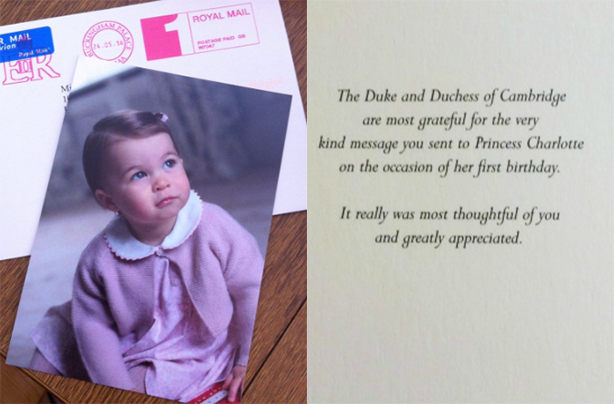 Princess Charlotte's first thank you card, June 2016
Princess Charlotte has sent her first thank you card!
Well, she might have had a little help from mum and dad to word them, but the little royal features on the front of the notes expressing gratitude for all the lovely wishes she received for her first birthday.
The design of the card was shared by royal fan Jess Ilse on Twitter who tweeted a picture of it along with the caption, 'The lovely thank you card I received today for Princess Charlotte's birthday!'
According to another royal fan, Maddy, the greeting inside the card read 'The Duke and Duchess of Cambridge are most grateful for the very kind message you sent to Princess Charlotte on the occasion of her first birthday.
It was most thoughtful of you and greatly appreciated.'
The picture on the front is one taken by Charlotte's mum The Duchess of Cambridge to celebrate her first birthday. The little princess is seen wearthing a pink flowery dress and sweet knitted cardigan.
How lovely, it looks like little Charlotte has been taught the importance of good manners from a young age!
Click through to see all the pictures of Princess Charlotte since birth...

Image
:
Jess Ilse
on Twitter/
Maddy
on Tumblr