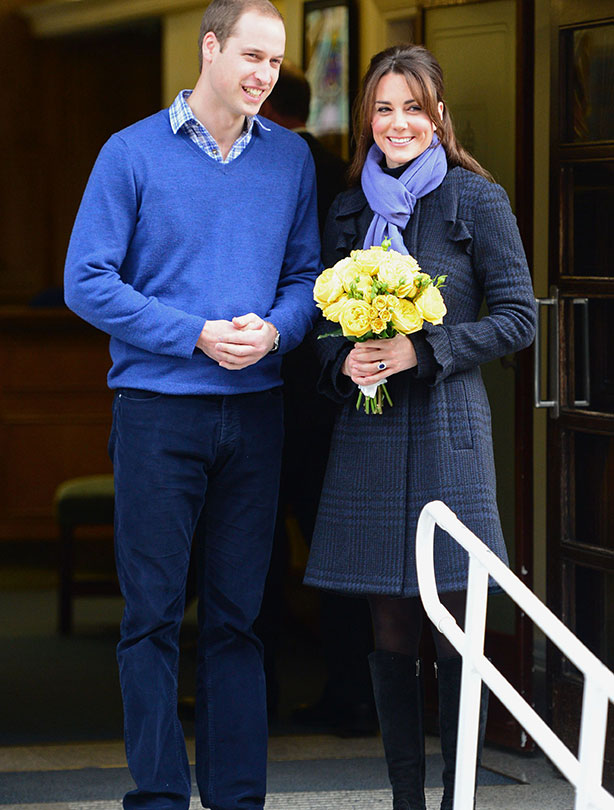 Kate Middleton pregnant: December 2012
From the moment she first announced that she was expecting back in December 2012, Kate Middleton pregnant became a figure of fascination around the world.
The Duchess of Cambridge didn't have an easy start to her pregnancy - here, she leaves the King Edward VII Hospital in London after developing
hyperemesis gravidarum
, a form of severe
morning sickness
.
Sufferers of the condition can be sick up to 50 times per day, leaving them dangerously dehydrated, and often putting the body into a state of ketosis. Kate was admitted to hospital as she required supplementary hydration and nutrients to help her manage the condition.
The sickness forced Kate, who was 30 at the time, and husband William to reveal the news earlier than the recommended 12 weeks into her pregnancy, with a statement issued on 3rd December by Clarence House.
'Their Royal Highnesses The Duke and Duchess of Cambridge are very pleased to announce that The Duchess of Cambridge is expecting a baby,' the statement confirmed.
'The Queen, The Duke of Edinburgh, The Prince of Wales, The Duchess of Cornwall and Prince Harry and members of both families are delighted with the news.'
'The Duchess was admitted this afternoon to King Edward VII Hospital in Central London with Hyperemesis Gravidarum. As the pregnancy is in its very early stages, Her Royal Highness is expected to stay in hospital for several days and will require a period of rest thereafter.'
Fortunately, the next day, as Prince William left the hospital, he revealed that she was 'continuing to feel better', adding that the pair were 'immensely grateful for the good wishes they had received'.
Accompanied by William, Kate left the hospital on 6th December, greeting supporters as she descended the steps holding a bunch of yellow roses. At this stage, she was believed to be around seven or eight weeks pregnant - and from then on, her bump, who we now know to be
Prince George
, continued to bloom...