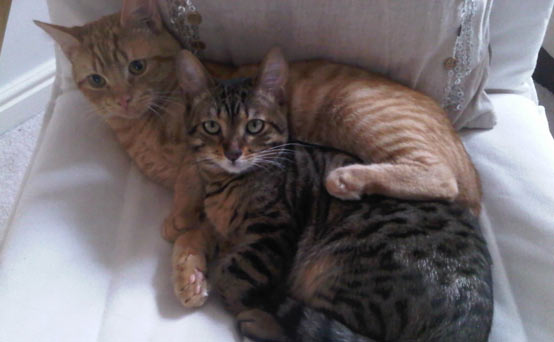 Lauren's cats Rossi and Nahla
Name -
Rossi and Nahla
Age
-Rossi is 1 year, 7months and a Nahla is nearly 1 year
Owner
-Lauren
Silly habits -
Rossi loves to sweep, especially while drinking water. Lauren usually finds his dish empty and the floor soaking wet. Nahla loves bobbles and hair grips - she'll paw them so they're closer to her then carry them away in her mouth!
Naughtiest moment
- The first day we let both cats out Nahla went into the next door neighbour's house and ran around their dining room table.
Nahla would say:
'Don't forget me!'
Rossi would say:
Not much, he sounds like a bicycle with squeaky brakes!
Think your pet's better than this lot? Then send in a picture, answering the questions above to
goodtoknow@ipcmedia.com
and see if they make it into our next gallery.