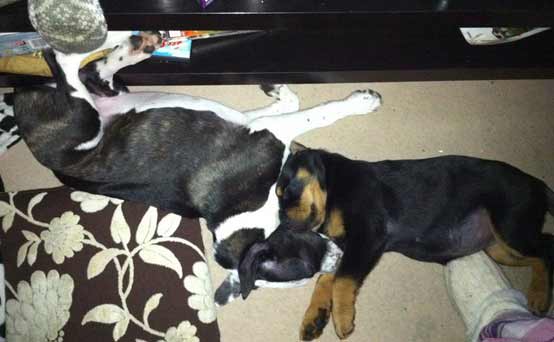 Sara's dogs Kendra and Charlie boy
Name -
Kendra and Charlie boy
Age
- Kendra is 19 weeks, Charlie is 11 years
Owner
- Sara
Silly habits
- Kendra puts food on Charlie's head to eat it! Charlie chases ducks and doesn't look where he's going so ends up in the water.
Naughtiest moments
- Kendra took a duck teddy off the shelf in a pet shop and wouldn't give it up, so Sara had to buy it. Charlie ran into a football match and ran off with the ball.
Think your pet's better than this lot? Then send in a picture, answering the questions above to
goodtoknow@ipcmedia.com
and see if they make it into our next gallery.