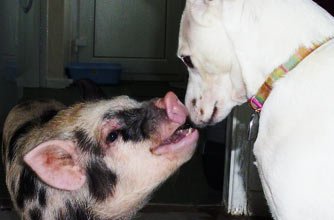 Jane's pets Hope and Daisy Doo
Name
- Hope and Daisy Doo
Age
- 5 months and 2
Owner
- Jane Croft
Silly habits
- Tipping over their water bowl in the kitchen.
Naughtiest moment
- Getting into the fridge freezer then eating a Viennetta, garlic batons, ice lollies and a portion of meatballs.
Hope and Daisy Doo would say
- 'It wasn't me, it was her!'
Think your pet's better than this lot? Then send in a picture, answering the questions above to
goodtoknow@ipcmedia.com
and see if they make it into our next gallery.