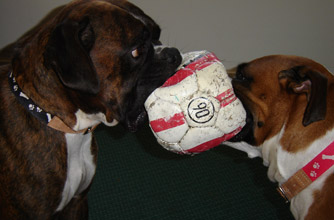 Kim's dogs Bella and Vinnie
Names -
Bella and Vinnie

Ages -
10 and 11
Owners -
Kim Long
Silly habits -
It was love at first sight between Bella and Vinnie, they have never been apart and they even mirror each other in the way they lie down.
Naughtiest moment -
Bella will not share the ball with Vinnie, he likes to tease her now and again, and takes the ball when he catches her unawares, runs with it for a while (as he can run faster than her). He lets her have it back after a few minutes. He just likes to let her know he can take it if he want's to.
Think your pet's better than this lot? Then send in a picture and tell us your pet's name, age, silly habits, naughtiest moment and what they would say, to
goodtoknow@ipcmedia.com
and see if they make it into our next gallery.