The best non-chocolate advent calendars for 2017
Tired of necking Cadbury chocolate squares every December morning?
The answer to this question is of course no, because who gets tired of chocolate, but we must admit that there are days when we wish our advent calendar gift was a little more of a surprise.
Luckily, we're not the only ones that have felt this way, and over the past couple of years, more and more alternative advent calendars have sprung up for sale. And the array of fillers on offer is getting better and better each year!
From beauty products to booze, and toys to treats for pets, and even an advent calendar that is back this year after being bought every 8 seconds in 2016! Here are the best non-chocolate advent calendars for 2017 – to sit beside your chocolate one, obviously…
Scroll down to Lifestyle advent calendars to see the amazing B&M Yankee Advent Calendar!
Food & drink advent calendars
Beauty advent calendars
Lifestyle advent calendars
Toy advent calendars

Food & Drink
Christmas Spirit Advent Calendar
£40 from Debenhams
It might not have 24 doors, but these 12 days of Christmas will certainly be worth the wait! The '12 Days Of Christmas Spirit' calendar by Debenhams includes 12 cute shot sized bottles (5cl) of top branded spirits including Baileys, Red Square vodka, Teachers whiskey and Jim Beam bourbon. The calendars are £40 and will be available online and in store from the 1st November.
Pringles Advent Calendar
£7.99 from B&M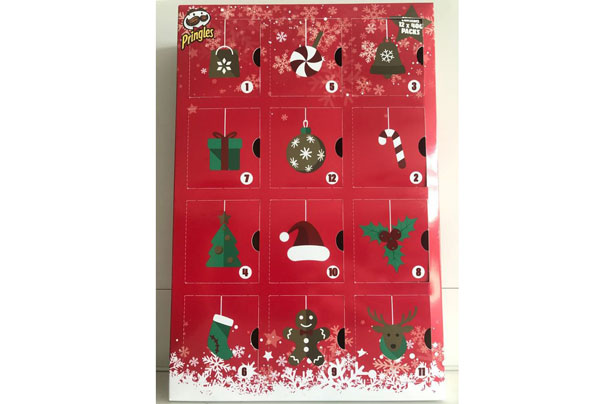 If you're a fan of the famous crisps, go down to B&M and get yourself one of these genius Pringles advent calendars.
It comes with 12 40g tubs of Pringles, with flavours including Texas BBQ Sauce, Salt & Vinegar, Sour Cream & Onion and Original, for the humble price of £7.99.
However, demand is very high and they've already started to be sold on eBay for double the price! Run Pringle fans, run…
PopaBall 12 Days of 'Pimp Your Prosecco' Advent Calendar
£29.99 from Lakeland
What's the festive season without a healthy helping of sparkle? What better way to celebrate the countdown to Christmas than with a prosecco-themed Advent calendar with twist. This '12 days of fizzmass' calendar comes with a variety of 'bubbles', glitter, and accessories behind each door to allow you to 'pimp you prosecco' with new flavours and colours every day. The best bit? The surprises behind each for can also be added to gin, vodka and tonic, lemonade, elderflower fizz or any other sparkling party drink you fancy – just in case you get bored of drinking Prosecco in December (if that's even possible!)
The Naked Marshmallow Co Advent Calendar
£13 from The Naked Marshmallow Co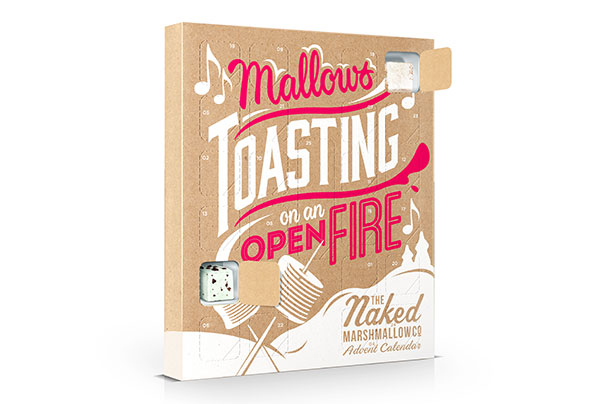 Who doesn't love a marshmallow? This alternative advent calendar boasts 25 'gooey pieces of heaven', with flavours including s'mores, candy cane, humbug, and gingerbread. Place your pre-order now to receive your calendar by the end of November.
John Lewis Edinburgh Gin Advent Calendar
£100 from John Lewis
If you want to wake up to a different type of gin everyday, then the new John Lewis advent calendar is for you.
The calendar, which costs £100, contains 25 bottles of 5cl gin of varying flavours, including the original Edinburgh Gin, navy-strength Cannonball Gin and briny Seaside Gin.
Aldi Wine Advent Calendar
£49.99 from Aldi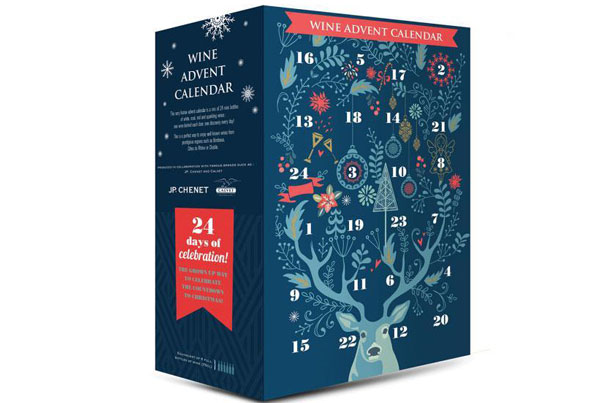 So dreams do come true. Aldi are launching a wine advent calendar for the holiday season this year, giving you an excuse to try a different every day up to Christmas – what more could you want?
The boozy calendar comes equipped with 24 bottles of red, white, rose and bubbly, which are the equivalent of six full bottles. This game changer will probably mean you'll have to open your advent calendar in the evening rather than in the morning, but no judgement here…
Gin & Tonic Advent Calendar
£99 from The Pip Stop (available for pre-order)
We all went mad for the Prosecco Advent Calendar below, but this calendar works a little differently. Instead of opening the tiny doors to mini measures of gin, this Gin and Tonic Advent Calendar holds a range of different flavoured tonics to open each day. Mouth-watering flavours like pomegranate and basil, tangerine, cinnamon and cucumber and watermelon – delish. And from great brands from Fever Tree and Fentimans to Bottlegreen and London Essence, make room in your fridge because come Christmas Day you'll be opening a full sized bottle of The Lakes Gin.
The Ultimate Tea Connoisseur Advent Calendar
£55.00 from newbyteas.com (available from 1st November 2017)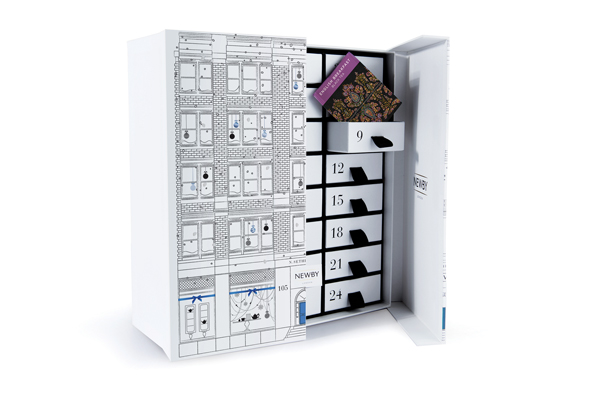 For Christmas 2017, luxury tea company Newby Teas of London presents a collectable advent calendar full of sumptuous tea choice for those who love a cuppa with a bit of luxury on the side. Two giant calendar doors open outwards to reveal a chest of 24 individual white drawers, each embossed with the day of the month. Inside each drawer is an individually wrapped sachet of tea, and no two are the same. From Rosehip & Hibiscus and Rooibos Orange to Darjeeling, Earl Grey and English Breakfast, there will be something for everyone.
Sparkling Wine Advent Calendar
£125 from The Pip Stop (available for pre-order)
If you love your fizz then opening this calendar every day will be your idea of heaven. Behind each door there's a 20cl bottle of sparkling wine for you to drink, including Prosecco, Cava, Sparkling Pinot Noir and Rose from Italy, Spain and Australia. Christmas Eve's door even has a mini bottle of Laurent-Perrier Champagne – helping you start the celebrations early!
Pukka Herbs Tea Advent Calendar
£7.99 from Pukka Herbs (available from October)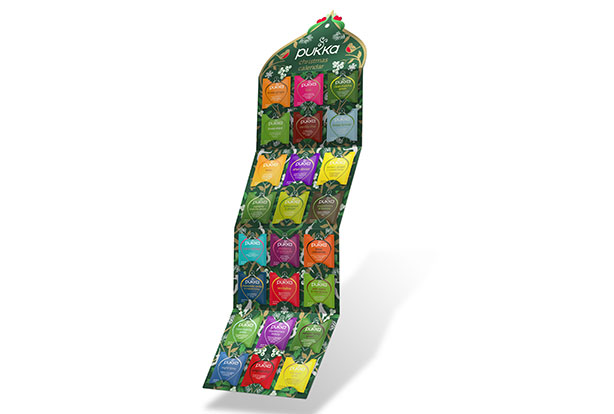 Variety is the spice of life – so why not try a new tea every morning on the run up to Christmas? This advent calendar has different herbal teas to try for each day in December – the perfect way to unwind after a busy day of Christmas shopping.
Biscuiteers Advent Box and Calendar
£48 (£99 with the cloth calendar) from Biscuiteers (available from 1st September)
This collection of Christmas-themed iced biscuits are almost too beautiful to eat. They arrive in a limited edition, hand-illustrated tin, and include circus favourites like a fire place, an ice skate and a cute snowman. The matching re-usable cloth calendar is gorgeous as well!
World's First Cheese Advent Calendar
£8 from selected Asda stores (available from 6th November)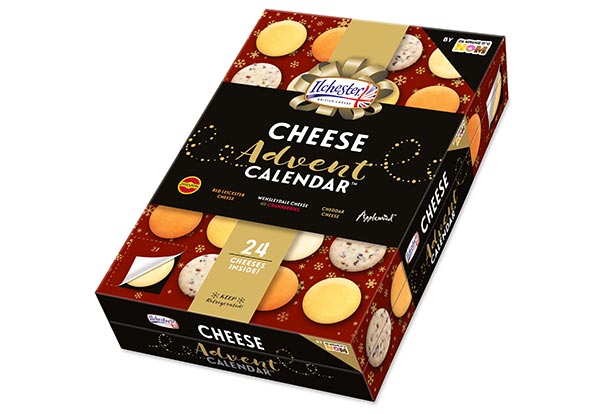 Last year, Annem – a food blogger from So Wrong It's Nom – went viral with her handmade Cheese Advent Calendar. This Christmas she's making cheese lovers dreams come true with a mass-produced number, with 24 individually wrapped cheeses, including Jarlsberg, Applewood, Mexicana and Ilchester behind the doors.
Carluccio's Luxe Advent Calendar
£75 from Carluccios (available from October)
For an Italian-inspired countdown to Christmas, this limited edition luxe advent calendar features Italian products from Carluccio's core collection. Treats behind the doors include limoncello chocolates, truffle butter, aged balsamic vinegar, torrone pieces and porcini oil.
Lily's Kitchen Advent Calendar for Dogs and Cats
£9.95 from Lily's Kitchen (available from 4th September)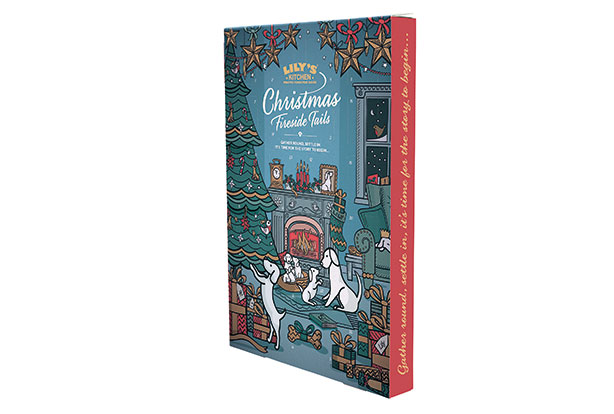 Dogs and cats may not be able to open the actual calendar doors, but with a little bit of help they can have a treat, every day, in the run up to Christmas. It's full of tasty items like cheese and apple treats!
Chase Advent Calendar
£129.95 from 31 Dover (available from 1st October)
Christmas is the time to celebrate – so this is the perfect calendar to enjoy on the run up to Christmas. Behind every door is a Chase spirit in a 5cl miniature bottle – ranging from Rhubarb Vodka, pink grapefruit gin and even some tasty liqueurs.
Haribo Advent Calendar
£14.99, from Amazon (available from mid September)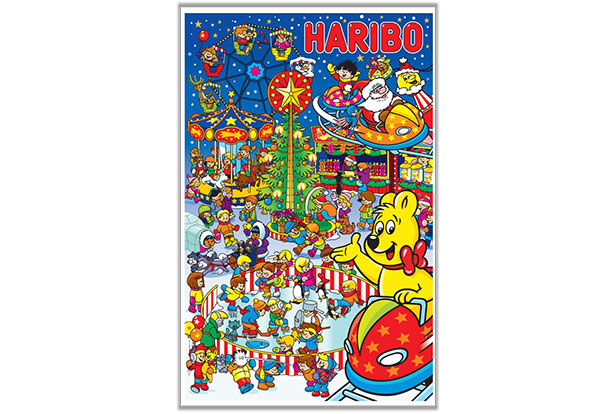 If chocolate isn't your thing, but gummy sweets most definitely are, then try the Haribo calendar, with 25 mini bags of everyone's favourite chewy candy.
Merry Piggin' Christmas Advent Calendar
£15 from The Snaffling Pig Co. 
A very interesting one, but bound to be a hit with any pork scratching lovers! From the creators of the flavoured pork scratchings, they're bringing you flavours like BBQ and Maple this holiday season.
Kelloggs Advent Calendar
£4 from Tesco (available from October 23rd)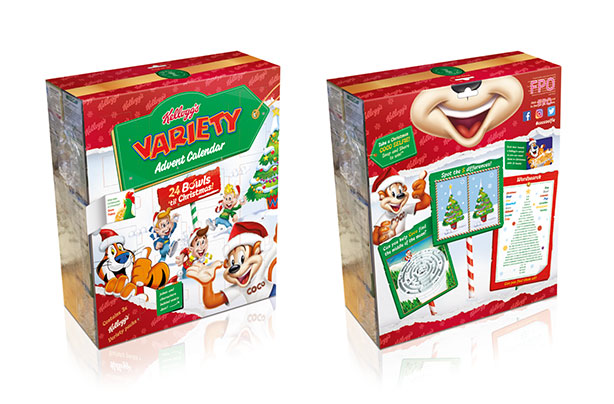 If you're a Coco Pops addict or love a cornflake then you'll be excited about this – Kellogg's has launched its first advent calendar this Christmas. The '24 bowls til' Christmas' is the UK's first breakfast advent calendar and will give you a chance of try a different Kellogg's cereal every day.
English Tea Shop Advent Calendar
£10.90 from Amazon
Another one for tea lovers, the English Tea shop have launched Christmas flavours such as Christmas Cake, Ginger bread man and Candy Cane. Drink one every day and you'll be feeling extra Christmassy by the time the 25h rolls around.
Wine Advent Calendar
£69.99 from The Pip Stop (available for pre-order)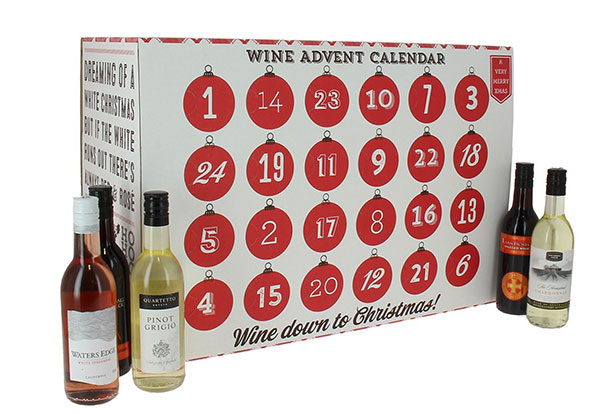 Finally – this is all we've ever wanted for Christmas! It contains a
combination of 24 mini bottles of white, red, rose and even mulled wine, each 187ml bottle showcases the best grapes from around the world. The
calendar includes South African Merlot, Australian Chardonnay, Chilean
Sauvignon Blanc and a White Zinfandel from the USA – we can see this
flying off shelves pretty fast, so get your pre-orders in soon…
Beauty advent calendars
bareMinerals advent calendar
£69 from QVCuk.com
This gorgeous calendar includes a mixture of bareMinerals hero products, featuring mascaras, complexion powders and eye colours, plus skincare and other treats. Although this advent calendar packed full of beauty goodies will set you back a cool £69.00, QVCuk.com also give you the option to split your payment into two easy instalments of £34.50.
Decléor's Hello December Advent Calendar
£65 from John Lewis.com, House of Fraser.co.uk, Look Fantastic, Feel Unique and Decléor spas and salons nationwide.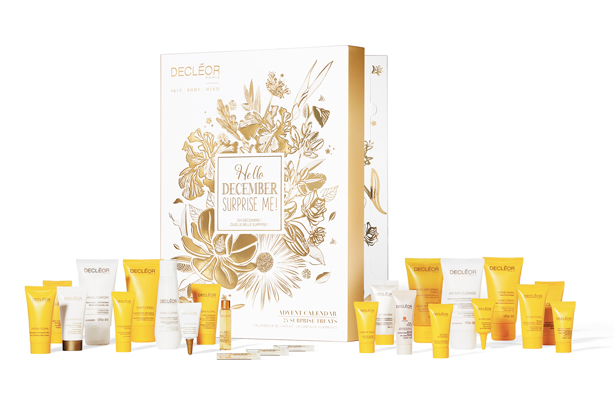 Discover a new beauty surprise every day with Decléor's beautiful beauty Advent Calendar. Behind 24 embossed doors you will find 24 skin saviours and bestselling Decléor products – including three full size products and a whole range of handy miniatures! In 2016 the Decléor Advent Calendar was sold every 8 seconds, so if you want to get your hands on one, you better be quick. The 2017 version is already sold out on www.decleor.co.uk – but there are still some left on e-retailers including John Lewis.com, House of Fraser.co.uk, Look Fantastic and Feel Unique, as well as Decléor spas and salons nationwide.
Ciate Mini Mani Month Nail Varnish Advent Calendar
£50 from Very
Ciate London's annual festive favourite is back again this year and promising to be better than ever! Treat yourself or a nail polish lover to the ultimate Christmas countdown as they open the sparkly doors to find 24 nail polish shades. Each pot and colour is formulated with Ciate's new and improved GELOLOGYTM formula, promising your holiday manicures will have the ultimate lasting power this year.
lookfantastic Beauty In Wonderland Advent Calendar
£79 from lookfantastic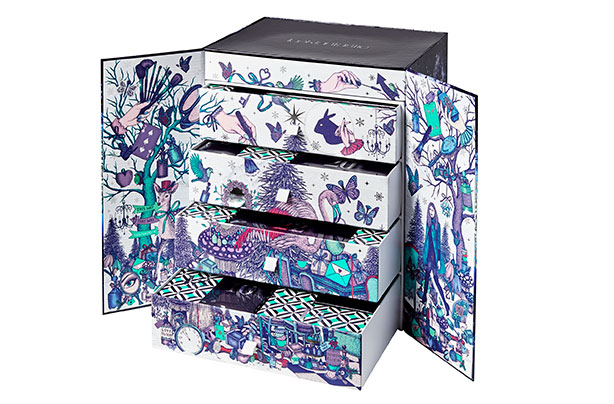 Ilamasqua, Elemis, Caudalie, Molton Brown – this calendar features some seriously luxurious products for just £79 (everything inside would set you back £300 plus if it were full price, FYI). We also love the design of this alternative advent calendar – hands up if you'll be keeping yours afterwards and making use of those drawers?
Holland and Barrett Advent Calendar
£35 from Holland and Barrett
If you prefer to keep your beauty regime on the natural side, Holland and Barrett's alternative advent calendar is the one for you. Brands included range from Dr Organic to Triology, with everything from anti-ageing cream to shower gel hidden behind the doors.
Iconic London Girl About Town Calendar
£150, from Fortnum and Mason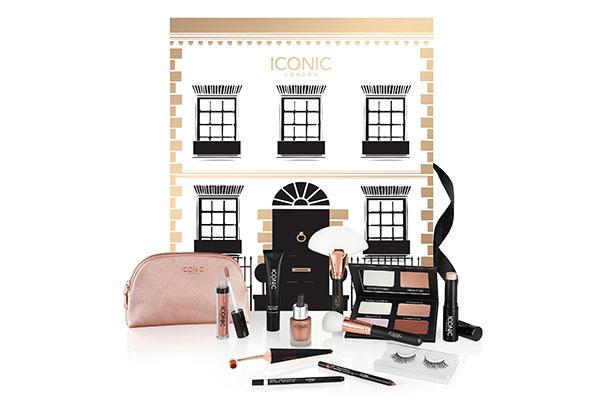 It may not come cheap, but if you can bear to part with your cash this calendar comes with some seriously luxe treats behind each door. You'll find make up brushes, lip paints, shimmer palettes and strobing sticks galore – and best of all, they're FULL SIZE products!
L'Occitane Advent Calendar
from £49 from L'Occitane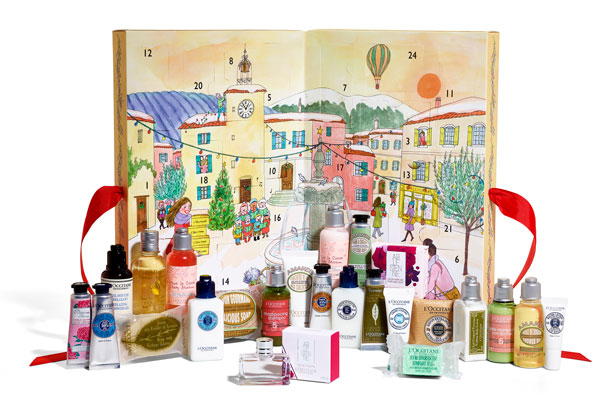 Beautifully illustrated, this beauty advent calendar by French brand L'Occitane is filled with 24 irresistible luxury products, including a relaxing shower gel, shea butter hand cream and repairing shampoo.
There's also a luxury version of the calendar, which costs £89, and comes with fragrances, hand creams and skin products like their Divine Youth Oil.
Benefit Advent Calendar
£34.50 from Benefit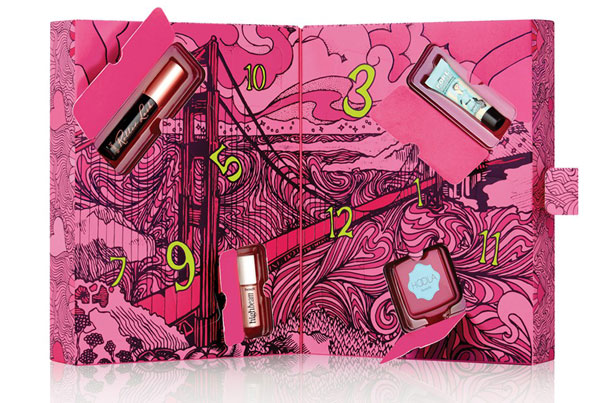 Go for a beauty blowout with the Benefit advent calendar, which includes 12 of their bestsellers. Includes their hit matte powder bronzer, lengthening mascara, Benefit's #1 pore primer. What's not to love?
Rituals' Advent Calendar
£59.50 from Rituals
Likely to be the most relaxing way to count down the days until Christmas and beat the festive madness, with the Rituals' advent calendar you get 24 surprises. They four special advent candles, shower gels, body mists, body scrub and more…
Superdrug's Beauty and the Beast Advent Calendar
£6 from Superdrug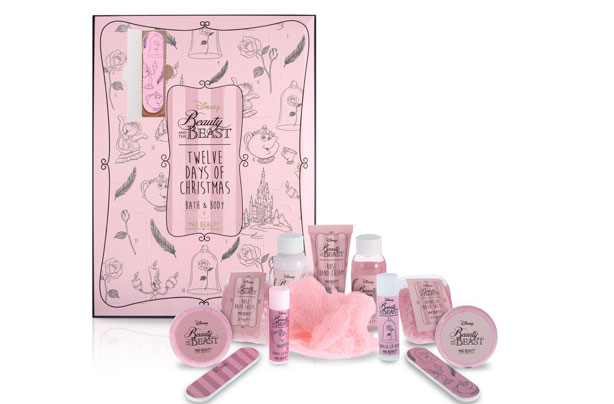 With a great price, this Superdrug Beauty and the Beast advent calendar comes with two lip balms, nail files, bath fizzers, bath salts and a body wash, body lotion, hand cream and a bath puff – all themed around the Disney tale. It's a yes from us…
Marks and Spencer Advent Calendar
£35 when you spend £35 on clothing or homeware, from Marks and Spencer
Another calendar that only caters for 12 days, but oh what a 12 days they'll be. Goodies include a mixture of mini and full size versions of products from brands such as Korres, Pixi, Diego Dalla Palma and Percy & Reed, with a total value estimated at £250 – bargain!
Birchbox Advent Calendar
£75 from Birchbox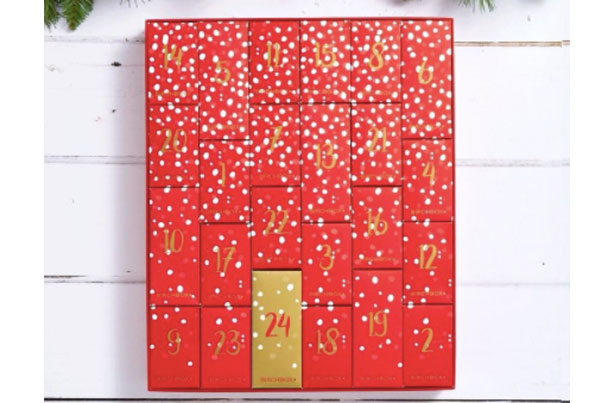 There's not much info on Birchbox's advent calendar yet, but they revealed on social media that the product will have limited stock and will go on sale to subscribers first – so get on the list quick!
ASOS's Advent Calendar
£55, from ASOS 
Online fashion giant ASOS is offering one of the very few beauty advent calendars that will give you a surprise for 24 days (most are 12).
The calendar, which is perfect for any beauty junkies out there, includes a mix of skincare, make-up and hair care products, featuring brands like Smashbox, Eyeko and Cowshed – so you have an excuse to treat yourself every day until Christmas!
The retailer is also offering a 'grooming' version for men, with products hair and skin from brands Elemis and Carmex.
Superdrug's Advent Calendar
From £16, available at Superdrug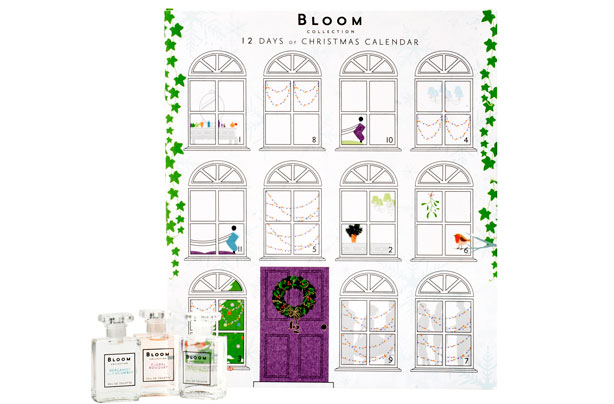 Superdrug has gone advent calendar crazy this year and have quite a few festive offerings available.
One of them is Superdrug's Bloom 12 days of Christmas (£24), which is hiding 12 mini Eau de Toilettes, which can be worn individually or layered to create a personalised scent.
Superdrug's Flutter (£16) will keep you supplied with new products for your eyes, lips and nails, including six Mini Nail Polish, six Mini Lipgloss, six Mini Eyeshadow and six Mini Lip & Cheek Tint.
Zoella's Advent Calendar
£50 from Boots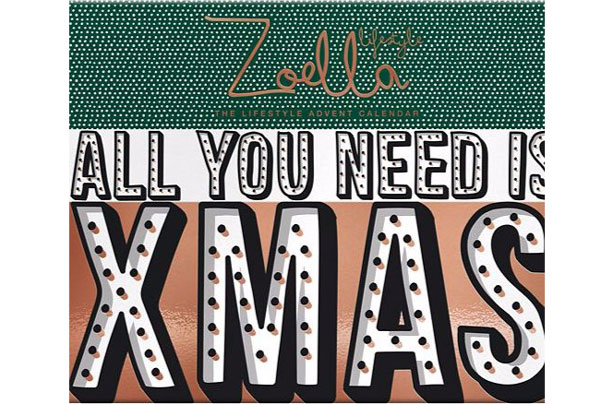 While it only caters for 12 days, Zoella's Christmas calendar is sure to brighten up half of your advent. Goodies include festive gifts like a bauble, confetti, a candle, two cookie cutters, a room spray, a key ring, and others.
Molton Brown Advent Calendar
£165 from Molton Brown 
This delight of a calendar comes with lots of mini versions of your most favourite Molton Brown products – from perfumes to baubles and even body creams – its the sort of advent you want to be waking up to every morning.
Sleek Advent Calendar
£35 from Boots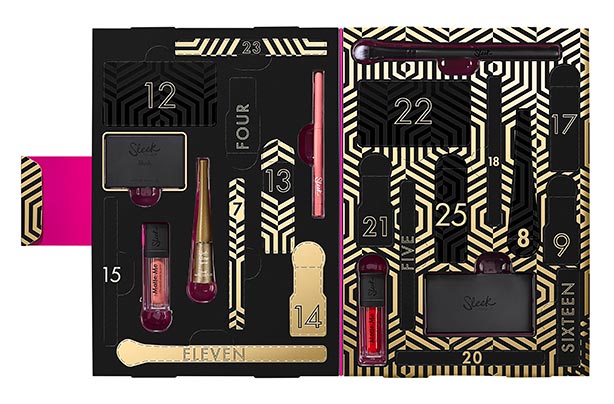 If you want to up your beauty game this Christmas then this is one easy way to do it. With lip glosses, brushes and a few surprises along the way from the Sleek beauty range you'll wow at the Christmas party this year.
Body Shop Advent Calendar
£90 (worth £139) from The Body Shop
This calendar will make sure you up your beauty game for the festive season with classic Body Shop body butters and lip glosses behind every door on the run up to Christmas.
Decléor Advent Calendar
£65 (worth £180) from Beauty Things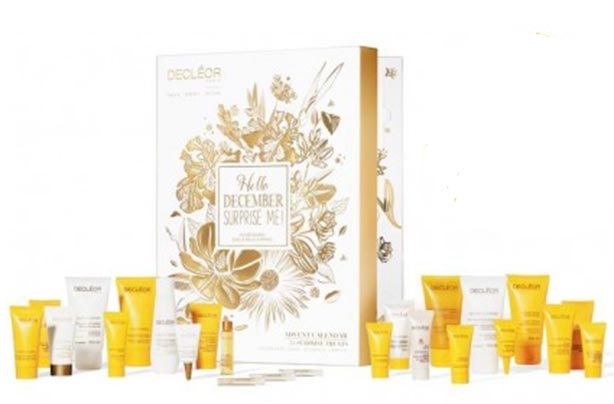 Boasting the brand's cult favourites in miniature form, as well as three full sized products this calendar is perfect for those who've loved the brand for a while, or those who are curious to try the luxe brand. Having mini version of products is always a plus, as you get to try them out before investing in the full-sized one. From dry oils, night balms, radiance masks and a body exfoliator, there's a whole range of products to cater to every skincare need.
Soap and Glory Advent Calendar
£40 from Boots 
Mini version of all of your favourite Soap and Glory products including hand creams, lip pencils and body butter. These 24 products will keep you looking beautiful well into the new year.
Charlotte's World of Legendary Parties Advent Calendar
£150, from Charlotte Tilbury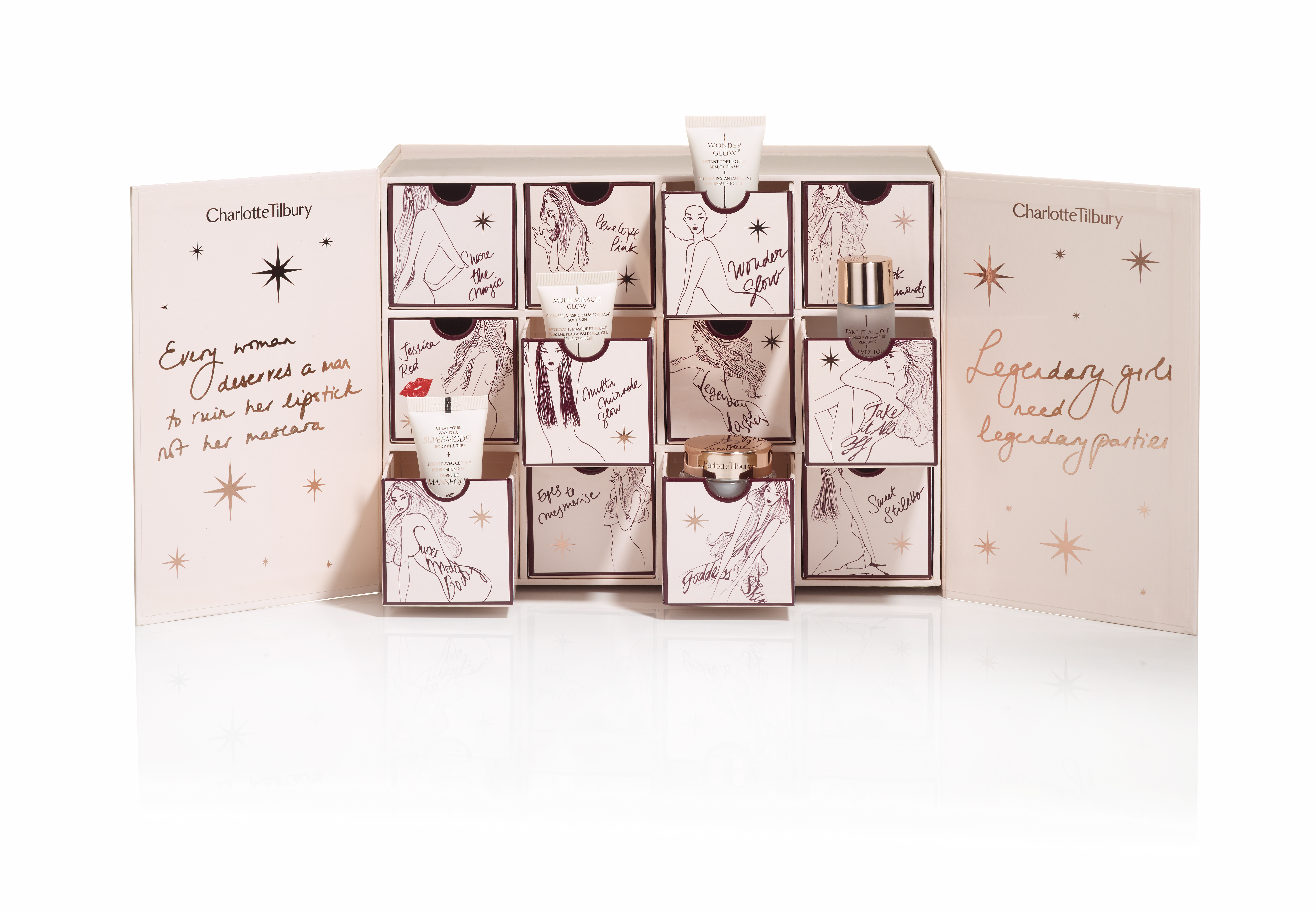 This calendar is the ultimate treat, whether it's a gift to yourself or for someone very lucky! The theme revolves around parties, and this glamorous beauty cabinet boasts a range of Charlotte's best-loved products such as her Magic Cream, mascara, K.I.S.S.I.N.G. lipstick, and many more!
Lifestyle advent calendars
Yankee Advent Calendar
£16.99 from B&M
Bargain store B&M are now selling Yankee Candle advent calendars for just £16.99 – that's a whopping £8 cheaper than the versions on sale at Very and Boots. The Home Inspirations calendar comes with 25 tea lights which burn for four to six hours. The fragrances include Fresh Balsam Fir, Fresh Winter Woodland, Holiday Apple Wreath, Sparkling Cinnamon Spice and Winter Morning.
The Harry Potter Socks Calendar
£12.13 from Target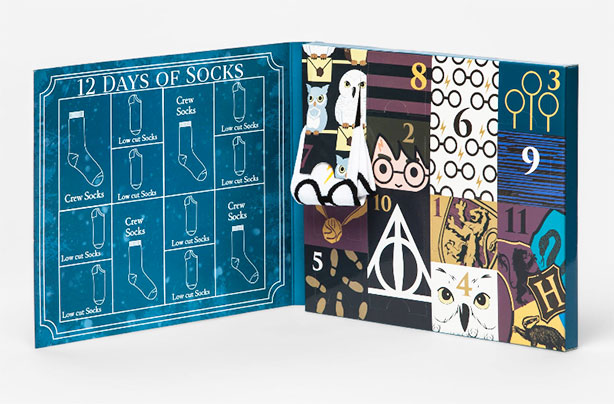 Calling all Harry Potter fans! You're going to love this 12 days of wizardy socks advent calendar. What better way to keep those toes toastie this winter than with cosy socks with your favourite characters on. You'll be able to choose from Harry, Hedwig, the Golden Snitch, the Deathly Hallows symbol and many more, once Christmas is over. It's the advent calendar that keeps on giving.
The Pet Advent Calendar
£1.99 from B&M
We're pretty sure your pooch deserves it's own advent calendar this year and why not go with this Scooby Snacks Dog Advent Calendar. The Scooby-Doo inspired calendar is filled full of carob treats – a safe chocolate-like product – for your beloved canine.
The Jewellery Advent Calendar
£9.99 from Aldi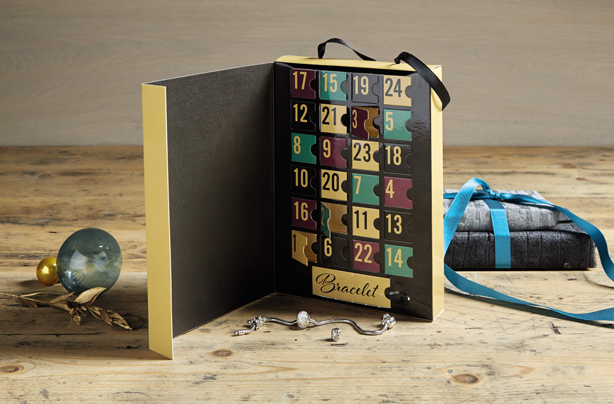 Adding an extra touch of sparkle to the the countdown to Christmas this year, the Aldi jewellery advent calendar comes with a bracelet and has a special charm behind each door, so you can add to your bracelet every day. With an assortment of charms made from glass, metal, and diamanté stones, this calendar is a fun alternative way to enjoy the festive countdown!
The Rudolph Advent Calendar
£24 from Bubblegumballoons 
This cute Rudolf picture calendar allows you to be a little creative. Hang it up across a wall and pop in a chocolate treat or a surprise every day inside each red balloon on Rudolph's face and then get the kids to pop his nose on each designated day.
Yankee Candle Advent Calendar
£24.99 from Yankee Candle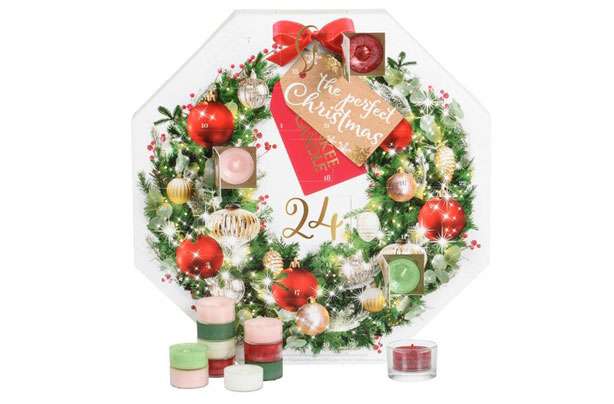 The Yankee Candle calendar, in the form of an advent wreath, is a scented festive treat, with each window concealing a different tea light candle that will no doubt fill your home with festive scents.
Toy advent calendars
£25 from ASDA
Attention all Peppa fans! This toy calendar comes with 24 Peppa Pig toys and accessories hidden behind the doors, to form a full festive scene for your little ones to play with on the day. We predict this one will sell out very quickly…
Disney Advent Calendars
£59.99 (Tsum Tsum Advent Calendar) £24.99 (Animator Littles Advent Calendar), from Disney Store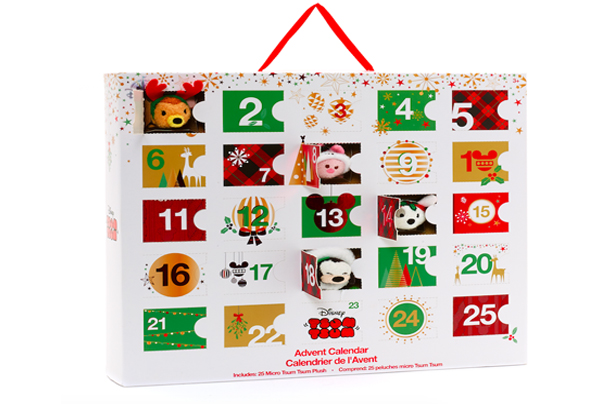 The Disney store have released two brand new advent calendars for this year and both are filled with 24 magical disney characters and treats to help you countdown to Christmas. Discover 24 adorable mini plush toys behind the doors of the Tsum Tsum calendar, featuring all if your firm favourites, while The Disney Animators Littles Advent Calendar contains mini figurines of Disney Princesses along with some accessories.
Smiggle Advent Calendar
£25 from Smiggle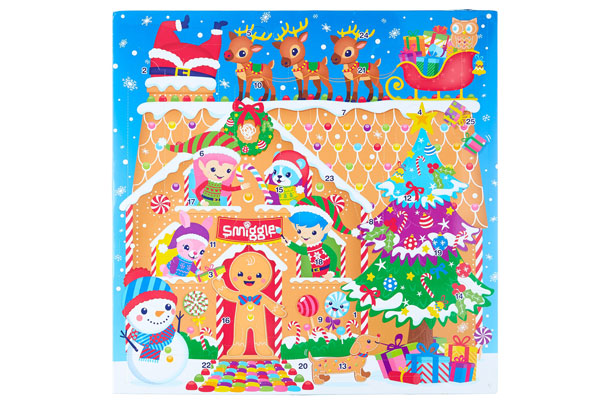 This is one for the little stationery fans out there. Filled with 25 goodies, this colourful festive calendar is hiding limited edition surprises you won't be able to find in store, including scented pens, colourful erasers and plenty more. Golden tickets have also been hidden in 30 different advent calendars, which will give the lucky winners a whooping £500 to spend in store!
V-Tech Toot Toot Animals Advent Calendar
£24.99 from Amazon
This calendar will get your little ones into the Christmas mood with fun characters behind each door to play with – including a reindeer, a snowman and a penguin.
Lego Advent Calendars
£18 (Friends) and £24.95 (Star Wars), from Amazon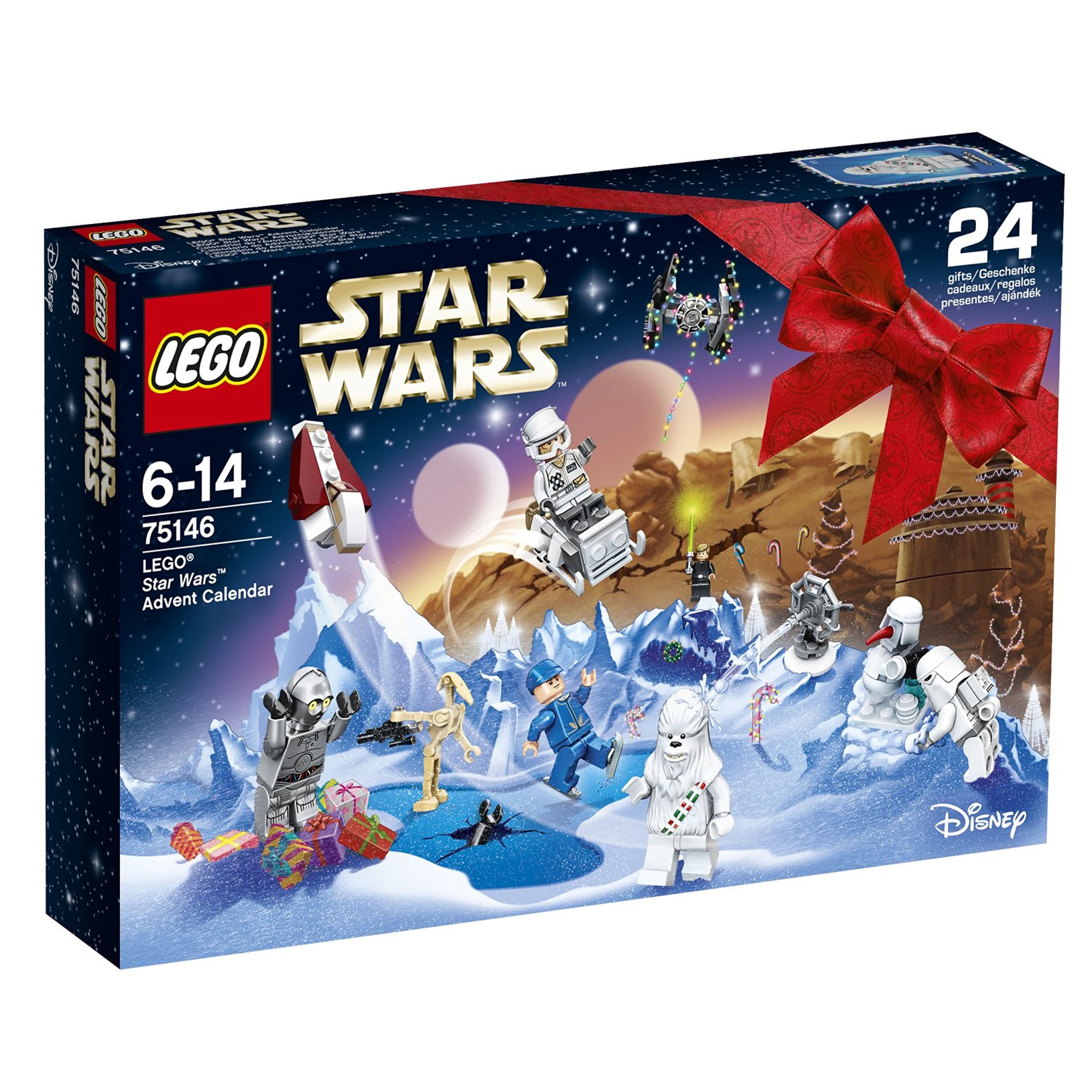 Lego's range of advent calendars have the novel build-as-you-go element, which makes door number 25 the most exciting for all the right reasons, as you get your finishing touch! Once Christmas is over, you can keep the pieces for use in the massive tub of bricks we all have in the cupboard, so it's the gift that keeps on giving.
Hama Advent Calendar
£15.99, from Amazon

The popular craft toy now offers a complete advent set, with all of the beads to create a different design for each day leading up to Christmas!
Play-Doh Advent Calendar
£15.99, from Amazon 
If you know a little one who loves Play-Doh, then why not let them get creative with a surprise behind each of its 24 secret doors? It includes five Play-Doh cans plus two Sparkle cans for some Christmas dazzle.