The day I cooked for Bake Off judges Mary Berry and Paul Hollywood live on TV
Have you ever wondered what it'd be like to cook for Mary Berry and Paul Hollywood live on TV? Well, our mummy blogger Anneliese got to experience the pure fear and excitement that comes with cooking for these iconic judges first hand on the new ITV show, Mel & Sue.
It's time to take a look behind the scenes with Anneliese. Over to you…
Anneliese on the Mel & Sue show
I'm a big fan!
Mel & Sue never fail to raise my spirits and make me laugh. I remember getting my Mum to record their old show, Light Lunch, as it was aired during my school days. Thankfully, the dynamic duo is back together for another daytime show, this time with the easy to remember title, Mel & Sue!
Imagine my excitement and disbelief when I was invited to appear on their new show, on ITV, as their home cook. There are no celebrity chefs on this show; instead, it's all about real home cooks demonstrating recipes they love to make for their family and friends. I was asked if I could come along to the show on Tuesday 10 February as they had Mary Berry appearing as a guest and they knew I was a big fan! Nearly three years ago, I finished baking my way through all 250 recipes from Mary Berry's Baking Bible. The challenge helped me to get through a difficult time and gave me a renewed zest for life and for baking! So yes, I'm a big fan! When I heard that I had to cook for Mary Berry and her Bake Off partner, Paul Hollywood, on live TV, I was filled with both excitement and trepidation!
After deciding on the recipe of gnocchi and red pepper pesto, I practised the recipe every day for four days, sometimes twice in one day! I was paranoid about it all going wrong and I couldn't let that happen. If you get the chance to cook for the Bake Off team, it has to be good. No pressure!!!!
London's calling
Before I knew it, I was making my way to London, armed with as many of my Mary Berry recipe books as I could carry, in the hope Mary might be kind enough to sign some for me!
Once off the train, I met up with my dear friend who had offered some much needed moral support. After navigating a few tube stops, we were at the studios. We were soon greeted by the assistant food producer and directed to a special room, just for us; there was even a sign on the door, 'guest cook'!
Hair and make-up, oh la la!
I was promptly sat in the make-up chair and a lovely make-up artist covered my tired face in cosmetics. I watched as the bags under my eyes disappeared; it was great! I have never worn false eyelashes before nor had my hair curled so I was in my element. It felt wonderful to be pampered!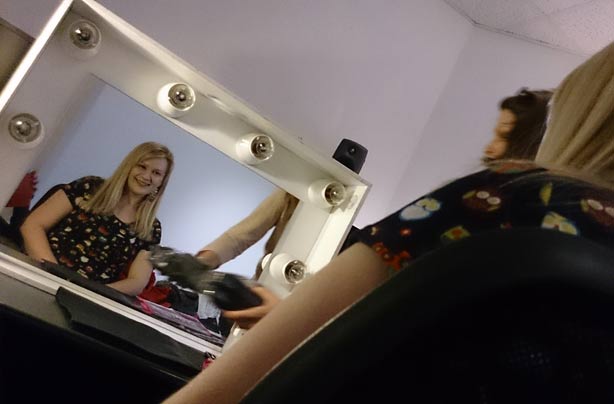 After make-up, it was straight across the hallway to go and look at the Mel & Sue set, eeek! It really did look homely and I felt tempted to go and lie back on the comfy sofas. I met the home economist, who was quite frankly amazing. She was so sensible and totally on the ball. I was told not to worry about my recipe as all the ingredients were ready for me and she was there to assist and guide me. After briefly talking through what I needed to do, we went into another room where we did a little pre-recording, which would be used for my introduction video. This introduction clip would be shown just before I walked into the studio, when the show went live.
After the little bit of filming, it was time to grab some lunch before taking part in the first rehearsal. The rehearsal was really fun to watch. Before I knew it they were heading over to me and it was my turn to make the gnocchi dough. It was a very messy business and I took a bit too long, so I knew I would have to be faster for the real thing. However, I was told not to worry if I didn't finish shaping the gnocchi as enjoying myself was more important. I had a lot of things on my mind when we went back to the guest chef's room for a quick breather. My three other friends had arrived by now and it felt so lovely to know that I would be able to see their friendly faces in the audience.
The rehearsals
There was no chance for much of a chat though, as we were soon called back for another dress rehearsal, this time with Mel and Sue! They arrived when I and my friends were sitting in the audience seats. They both introduced themselves, with handshakes and warm smiles. I felt at ease immediately. They rehearsed in a casual manner and were clearly enjoying themselves with lots of giggles and banter, like we are so used to seeing on our television screens. Mel came into the audience to rehearse with me; she put her arm around me and told me it would all be fine! When in the kitchen, we ran through the basics together, but again it was all very relaxed.
As the production team were keeping my presence a surprise from Mary Berry, I would have to walk into the studio from a side door. We had a quick practice of this and then I was taken away, just before the audience was called in, as Mary Berry would soon be on set to do a short recording with Paul, Mel and Sue.
And so the countdown begins…
I had a lovely 20 minutes or so to sit, on my own, in the quiet, trying to calm my breathing. I was going to be on LIVE television in less than half an hour and I was terrified! What if I dropped something, did the wrong thing, messed it all up?! The thought of cooking for Mary Berry and Paul Hollywood on live TV was daunting, to say the least! It was hard to relax.
Before I knew it, I was being called back to the studio. I went and sat with my friends in the audience and was given reassuring hugs and smiles. I think everyone was feeling nervous for me by that point! Soon everyone was cheering in Mel and Sue and it was right into the show. No pretending this time. Mel was soon sat next to me in the audience and I could feel her reassuring arm around me once again. The short chat was over in seconds and I was led out of the audience and hidden behind the doors. Thankfully, I could still watch from a distance as Mary and Paul came into the room for their interview. I simply had to wait.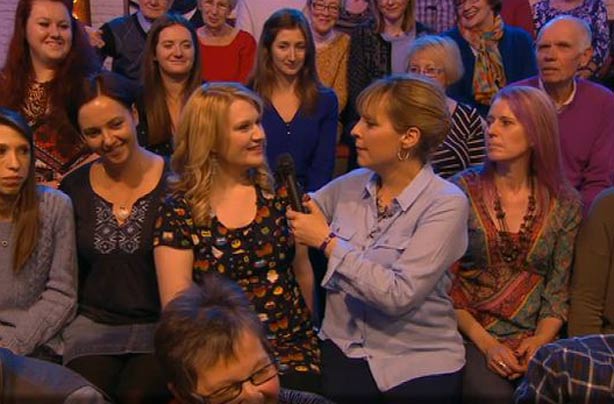 'Welcome Anneliese!'
After the first commercial break, Mel and Sue announced that it was time to introduce the home cook. My heart did a somersault and the butterflies in my tummy made their presence known! I heard my intro video clip playing then Sue did a big introduction for me; my name was called and I was told to go through the doors. I walked straight into Mary Berry's arms! Such a warm welcome and Mary genuinely appeared surprised and happy to see me there. There was no time to chat though as I had to delegate jobs to Paul, Mel and Sue. I then had to turn to Mary and ask her if she would be kind enough to sign the big pile of books for me! Her face lit up; she seemed so pleased to be asked and got straight on with the task at hand. Everyone laughed when she proclaimed that the books were sticky, which was a good sign that they were well used!
I couldn't believe how quickly the six minutes passed; my time was up, phew! It was time for another commercial break and the home economist and the food producer appeared as if from nowhere, cleared everything away and plated up the gnocchi and red pepper pesto. It was like magic! While this was going on, Mary turned to me and said how pleased she was to meet me. She remembered sending a card to congratulate me when I completed my challenge!
After the interview section of the show had finished, Mary, Paul, Mel and Sue all came over to taste the food. My heart was in my mouth at this point! Mary was so sweet and said it was superb and Paul, in typical Paul style, fixed me with a stern glance and said 'I don't like it', then quickly added 'I love it'. Phew, I could breathe again! The plates of food were taken into the audience and I was presented with the much coveted Mel & Sue mixing bowl and surprisingly thin oven mitt! It was then straight into the third and final commercial break and I was allowed to venture back into the audience to re-join my friends, to relax and enjoy the final section of the show.
Strike a pose…
Once the show had finished and the credits had rolled, there was enough time for photos. I stood back at first but Sue called me over and I was snuck in between Mary and Mel. Mary gripped hold of my arm tightly in a reassuring, almost protective way. While we waited for the next photo, she asked how old my boys were now and who was looking after them today! She mentioned that I must have my hands full with two little boys!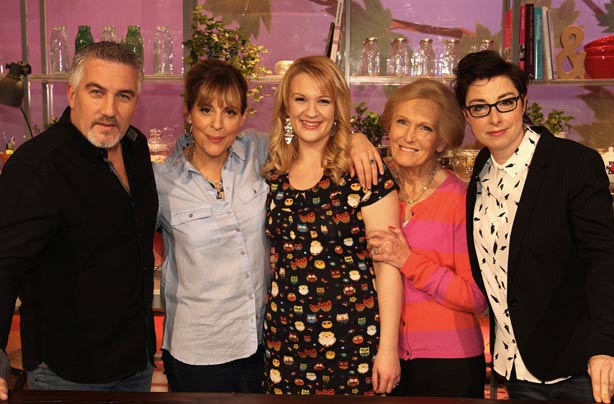 Soon the photos were over, Mary and Paul were off, and the adventure was at an end. Thankfully, I have my mixing bowl, oven mitt and lovely photos as fantastic keepsakes from the day! I wasn't sure I could top that until I looked to see what Mary had written in my Baking Bible – "Well done – such a huge pleasure to be with you, keep baking, love Mary Berry". Such a wonderful, gentle, kind and inspirational lady – I feel so very lucky to have met her and I will treasure the memories. What an amazing experience; I won't forget it!