The Great Comic Relief Bake Off 2015: Meet the celebrities!
The Great Comic Relief Bake Off is back and it's bigger and better than ever for 2015. With a top celebrity line up including the likes of Jennifer Saunders and Johnathan Ross, we can't wait to get baking again.
Not only will there be celebs competing for the title of The Great Comic Relief Bake Off champ, there will also be different stars hosting the show too including comedian and An Extra Slice's host Jo Brand.
So, with that said it's time to see the celebrity line up for this year. Who will be your favourite? Who will be crowned star baker? We just can't wait to find out!
Meet the celebrities
Who are they?
Jennifer Saunders is an English comedian, screenwriter and actress. She's most famously known for playing Edina 'Eddy' in Absolutely Fabulous alongside Joanna Lumley. We bet they're going to be a right pair on GBBO!
Dame Edna Everage is a character created and performed by Australian comedian Barry Humphries. She's a TV star with plenty of sass and a vibrant wardrobe. Paul Hollywood best watch out!
Lulu is a singer with an OBE. She has been a huge success in the entertainment business from the 60s to present day. We wonder if her baking is going to be as good as her singing?
Joanna Lumley has done a lot in her life, from playing Patsy in Absolutely Fabulous to being the face of M&S Shwopping campaign, she's travelled all over the world, was a model back in the day and is now trying her hand in a spot of baking!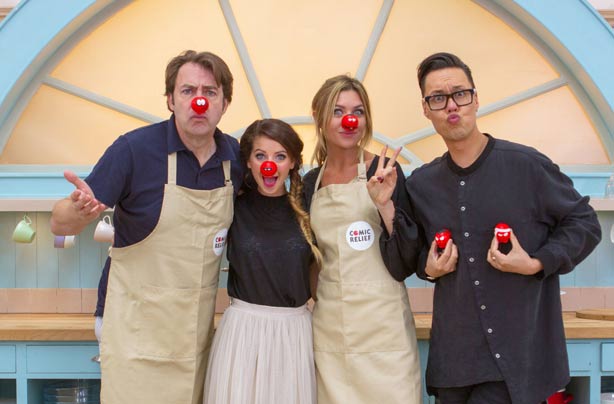 Who are they?
Jonathan Ross is a TV and radio. He is best known for presenting the BBC One chat show Friday Night with Jonathan Ross during the 2000s. We have a feeling he's going to be pretty comical in the kitchen!
Zoe Sugg is an English fashion and beauty vlogger known for her blog 'Zoella'. Her debut novel, Girl Online, was released in 2014 and broke the record for highest first-week sales since records began. Let's see if she's as successful in the baking department!
Abbey Clancy is a model and TV presenter. Married to famous footballer Peter Crouch, Abbey is a sucker for reality TV and would like to add star baker to her résumé, along with her Strictly Come Dancing win in 2013. We think she can do it!
Gok Wan is a fashion guru and TV presenter. His most popular TV show was How To Look Good Naked. Gok has also published a couple of cookbooks full of delicious Asian recipes. We think this is going to give him the upper hand, don't you?!
Who are they?
Victoria Wood is an English comedian, actor, singer-songwriter, screenwriter and director (phew!) Victoria now wants to give baking a go! We wonder if she'll impress Mr Hollywood?
Kayvan Novak is an actor and comedian. He was mostly known for starring the comedy series Fonejacker. We think he's going to be up for the challenge, maybe he'll even use his charming looks and sense of humour to win over Mary Berry!
Alexa Chung is a model and TV presenter. She is also a contributing editor at British Vogue. Looks like this fashion princess is ready to get her hands dirty for charity – good for her!
Chris Moyles is a radio and TV presenter. BBC Radio 1's The Chris Moyles Show from 2004 to 2012 and Chris Moyles' Quiz Night between 2009 and 2012 on Channel 4. We wonder if this funny man is ready to face the wrath of Paul Hollywood?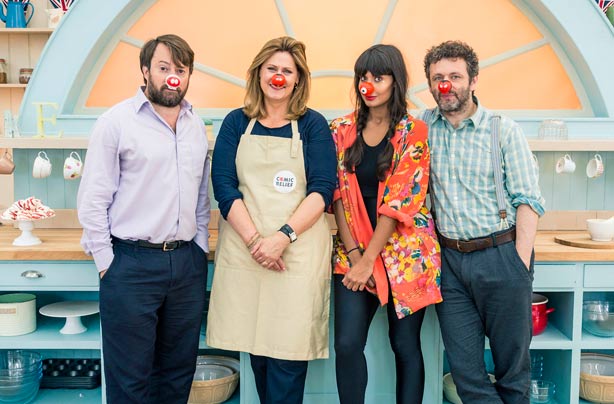 Who are they?
David Mitchell is a British actor, comedian and writer. Alongside his comedy partner, Robert Webb, the duo star in the hit TV series Peep Show. We're looking forward to some classic David humour!
Sarah Brown is a campaigner for global health and education and is married to British Labour Party politician, Gordon Brown. We hope she's got her apron at the ready!
Jameela Jamil is a TV and radio presenter and model too! She has appeared on various Channel 4 programmes and is well known for her presenting on T4. Let's see if she can talk her way through GBBO!
Michael Sheen OBE is a welsh actor and director. He has appeared in films such as Kingdom of Heaven (2005), Underworld (2003) and played Dr William Masters in the popular TV series, Masters of Sex. We wonder what his baking skills are like!?
Have we got you in the mood for some serious baking? See all of our favourite Bake Off recipes here including Mary Berry classics and Paul Hollywood treats!
The Great Comic Relief Bake Off begins on Wednesday 11th February on BBC One at 8.00pm for 4 weeks and Red Nose Day is back on Friday 13th March where you can see a special edition of GBBO: An Extra Slice when the four star bakers from the series will return to battle it out for the champion of champions title! Eek!