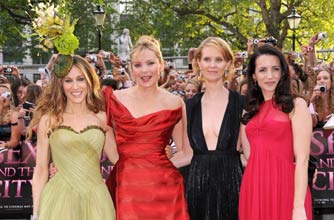 Last night Leicester Square saw the fab four - Carrie, Miranda, Charlotte and Samantha - at the world premiere Sex and the City: The Movie.
Rumours were rife that some of the big cast members were going to boycott the film's debut in protest over it being shown in London, not New York. But, all four leading ladies turned up to what has been the biggest (and definitely most glamorous) premiere in the capital this year.
But enough of all this! We'll keep you in suspense no longer. Click on the names of each of the film's stars to see what (and who) they were wearing - we can guarantee you won't be disappointed...
Continued below...
-
Kristin Davis (Charlotte)
-
Kim Cattrall (Samantha)
-
Cynthia Nixon (Miranda)
-
Sarah Jessica Parker (Carrie)