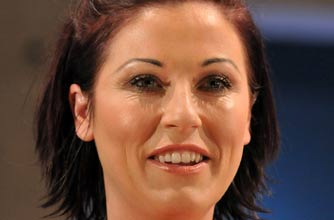 Jessie Wallace, 36, who's best-known for her role as Kat Slater in EastEnders, has always struggled with her weight, but appears to have finally cracked her yo-yo dieting. She's looking sexy and confident and close friends say that her toyboy fianceTommy O'Neill, 25, is the reason for Jessie's stunning new look.
'Jessie's finally happy and it shows,' says her friend. She's never been so in love and it's only natural that she wants to look good for Tommy. They can't wait to get married.'
Jessie, who has a daughter Tallulah, three, from a previous relationship, got engaged to Tommy in January. She recently confided that she'd even splashed out on Botox injections in a bid to look youthful for her fiance. 'He's a boxer and so young and fit - I've had Botox because I feel so old!'
Now she's finally got a body to be proud of, too, after toning up her voluptuous figure. Jessie has admitted that her weight problems were a result of binge eating. 'I do go on food binges,' she reveals. 'I just gobble up everything in the house.'
Continued below...
Choose your perfect diet
BMI calculator
Join goodtoknow's Diet Club