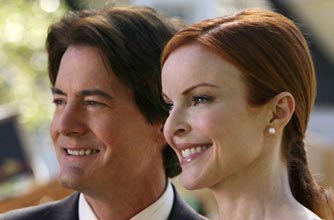 Bree and Katherine start a catering business together and end up doing the food for one of their friend's weddings - but whose could it be?
Could it really be that Carlos and Gabrielle or Susan and Mike actually make it down the aisle?
Want to know more about what's in store for the ladies? Click through to find out about Lynette and co, but be aware that these pages do contain
SPOILERS!
See Lynette's story
Continued below...
More on Desperate Housewives:
-
Bree
-
Gabrielle
-
Lynette
-
Susan
-
What do you think of the new series? Chat now!
-
What the stars had to say on set
-
Which Desperate Housewife are you?