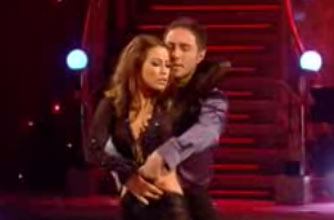 What a weekend! Daniel Evans got kicked off X Factor (finally!) and Cherie Lunghi left Strictly Come Dancing.
For Cherie to have gone it shows just how tough the competition is getting. All the dances this weekend were amazing, apart from dear old John Sergeant, of course! - and as the judges keep pointing out, no-one is safe.
We don't know about you, but we thought Rachel Stevens' rumba was the best performance of the whole weekend. Arlene said it gave her goosebumps, Craig said it was lewd but he loved it and after our initial blushes we couldn't keep our eyes off her. Click on the clip below to watch again.
We've also got JLS's Beatles medley for you, Austin Healey's tango and Alexandra Burke singing You Are So Beautiful. Enjoy!
Where to next?
Continued below...
-
Laura's last performance - watch again
-
Diana Vickers' version of Call Me
-
More celebrity and TV gossip