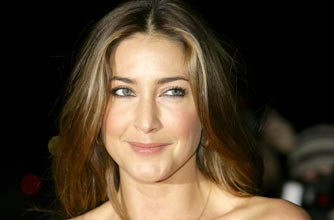 Strictly Come Dancing's Lisa Snowdon has apparently been caught kissing Brian Fortuna (Heather Small's dance partner on the show).
The alleged lip-lock took place at a party last month held for ex-contestant Mark Foster (he of the string vest and rippling pecks' fame).
Well we never. We don't mean any disrespect to Brian, he is after all quite a catch, but after George Clooney (Lisa's ex in case you didn't know) he's going to have a tough job keeping her interested!
A show insider said, 'Brian's made it no secret that he fancies Lisa. He was in the studio on Saturday night cheering for her.'
As if Strictly wasn't exciting enough already - make sure you look out for him in the audience this weekend when Lisa's dancing, we know we will be...
Continued below...
Where to next?
-
Rachel's rumba
-
Laura White's last performance on X Factor
-
X Factor's Diana Vickers singing Call Me