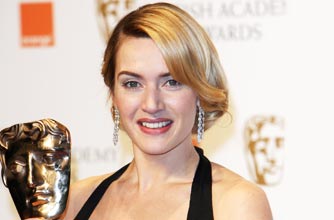 Kate Winslet, 33, was all smiles at last night's Bafta awards as she picked up Best Actress for her lead role in The Reader.
Mickey Rourke, 56, won Best Actor for The Wrestler, while the British film Slumdog Millionaire took home an amazing seven gongs.
The late Heath Ledger was recognised as Best Supporting Actor for The Joker and Penelope Cruz, 34, was Best Supporting Actress for Vicky Cristina Barcelona.
Brad Pitt, 45, Angelina Jolie, 33, Sharon Stone and Christian Slater were just some of the stars who attended the film bash in London.
Here is the full list of Bafta winners:Best Film
Slumdog Millionaire – Christian Colson
Outstanding British Film
Man On Wire – Simon Chinn, James Marsh
The Carl Foreman Award
For Special Achievement by a British Director, Writer or Producer for their First Feature Film
Steve Mcqueen (Director/Writer) – Hunger
Director
Slumdog Millionaire - Danny Boyle
Original Screenplay
In Bruges – Martin McDonagh
Adapted Screenplay
Slumdog Millionaire - Simon Beaufoy
Film not in the English Language
I've Loved You So Long - Yves Marmion, Philippe Claudel
Animated Film
WALL.E – Andrew Stanton
Leading Actor
Mickey Rourke – The Wrestler
Leading Actress
Kate Winslet – The Reader
Supporting Actor
Heath Ledger – The Dark Knight
Supporting Actress
Penélope Cruz - Vicky Cristina Barcelona
Music
Slumdog Millionaire - A. R. Rahman
Cinematography
Slumdog Millionaire – Anthony Dod Mantle
Editing
Slumdog Millionaire – Chris Dickens
Production Design
The Curious Case of Benjamin Button – Donald Graham Burt, Victor J.
Costume Design
The Duchess – Michael O'Connor
Sound
Slumdog Millionare - Glenn Freemantle, Resul Pookutty, Richard Pryke, Tom Sayers, Ian Tapp
Special Visual Effects
The Curious Case of Benjamin Button – Eric Barba, Craig Barron - Nathan McGuinness, Edson Williams
Make-up & Hair
The Curious Case of Benjamin Button – Jean Black, Colleen Callaghan
Short Animation
Wallace and Gromit: A Matter of Loaf and Death – Steve Pegram, Nick Park, Bob Baker
Short Film
September – Stewart Le Maréchal, Esther May Campbell
Orange Rising Star Award
Noel Clarke
Outstanding British Contribution to Cinema
Pinewood Studios and Shepperton Studios
Academy Fellowship
Terry Gilliam
Continued below...
Where to next?
-
Celebrity dress diasters
-
Celeb hair gallery
-
Before they were famous