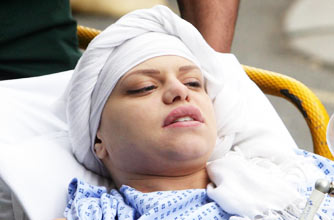 Jade Goody has checked out of the Royal Marsden Hospital in London.
The reality TV star is desperate to spend her remaining days at home in Essex with sons Freddie, 4, and Bobby, 5.
'Someone from the Royal Marsden who will administer the
epidural
and pain control,' rep Max Clifford tells The Sun.
'A nurse will spend two or three days at home with her, teaching Macmillan nurses how to deal with the epidural and Jade's pain relief.'
But Jade, who is married to Jack Tweed, 21, is determined to keep fighting until the very end.
'I was given a death sentence, but I didn't let it kill me,' she tells OK!
'I fought it, got married, got christened. I'm happy. I've achieved more in just 27 years than some achieve in their lifetime. I could bitch about dying young, but at the end of the day, I can look back on my life and be proud of what I've done.'
Where to next?
-
What Jade's cancer battle can teach us
-
Get all the facts on cervical cancer
-
Read Sara's story about how she survived cervical cancer
-
Aftercare tips for cervical cancer
-
Expert advice on the cervical cancer jab
Continued below...
Family advice:
-
Talking to your kids about death