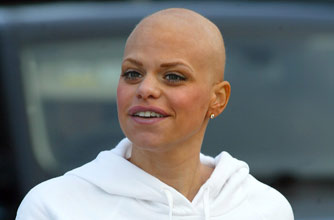 Jackiey Budden dressed daughter Jade Goody in her wedding gown yesterday ahead of her funeral on 4 April.
The 50-year-old was at the FA Albin & Sons undertakers in Bermondsey with Jade's pal Kate Jackson for two hours.
'Jade looked so beautiful,' said Jackiey. 'She's wearing her wedding dress. She looked like Sleeping Beauty.'
Kate, who was head bridesmaid at Jade's wedding to Jack Tweed, 21, was later seen in floods of tears.
Jade's death certificate was filed at Epping Register Office yesterday - the cause was listed as 'exhaustion' and 'disseminated metastatic cervical cancer.'
Meanwhile, a book of remembrance has been opened at St John The Baptist Church in Buckhurst Hill, Essex, where the Big Brother star's funeral will take place.
More about Jade Goody
-
How Jade will live on
-
Jade's life on film
-
Jade's health timeline: Find out how her cancer developed
-
Jade's life in pictures: See our gallery of some of her most memorable moments
-
The latest news on Jade Goody
-
Now magazine's exclusive Jade Goody album
Health:
-
More information on Jade Goody and cervical cancer
-
All the facts about cervical cancer
-
What to expect from a smear test
-
More about the cervical cancer jab
-
Why cancer patients get free prescriptions
Continued below...
Tell us your comments about Jade